Specifications
RNZAF serial no. NZ6460
Manufacturer's no. 6786
Currently on display in the Thérèse Angelo Wing
The only Italian-made aircraft to fly with the RNZAF, the Macchi gave a generation of Air Force pilots their introduction to fast jet flying.
The MB-339 was developed during the 1970s in response to a request from the Italian Air Force for a replacement jet trainer. A derivation of its predecessor, the MB-326, the prototype first flew on 12 August 1976, and the first aircraft entered production soon after.
The RNZAF acquired 18 Aermacchi MB-339CBs in 1990, with deliveries beginning in 1991. All 18 aircraft were operated by No. 14 Squadron RNZAF at Ohakea. The MB-339, or 'Macchi' as it became known in the RNZAF, provided RNZAF pilots with the advanced flying training component of their 'wings' course. The Macchi also had a second-line attack capability when equipped with 12.7mm gun packs, bombs and rockets. With the disbandment of the RNZAF's Air Combat Force in 2001, the Aermacchi was retired and put into storage at Ohakea. The majority of the fleet was sold in 2012, with the remainder being allocated to aviation museums around New Zealand.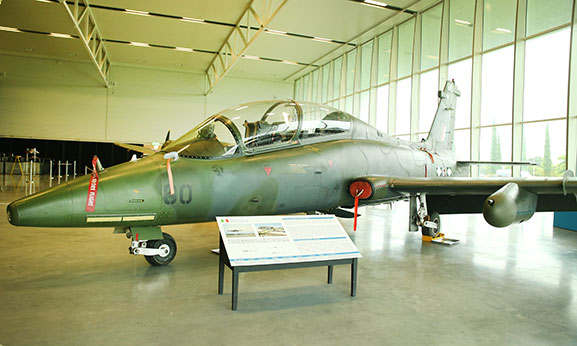 NZ6460
NZ6460 was the first Macchi to be assembled and test flown in New Zealand and was officially handed over to No. 14 Squadron on 19 April 1991. On 28 November 1994, its pilot was forced to make a wheels-up landing at night following a 'flame-out' of the engine. A metal object had been ingested resulting in a complete loss of power shortly after take-off. The aircraft required extensive repair in Italy. As part of No. 14 Squadron's aerobatic display team, the Black Falcons, NZ6460 took part in many displays around New Zealand throughout 2000 in celebration of the new millennium. It was transferred to the Air Force Museum of New Zealand in 2012.