Specifications
RNZAF serial no. NZ203
British Air Ministry no. 811
On display in the Aircraft Hall
The single-engine Avro 626 biplane is one of the rarest aircraft in our collection. It is not only the oldest surviving fully-intact RNZAF aircraft, but is also the last Avro 626 in existence anywhere in the world.
The 626 was developed during the 1920s, when British aircraft company, Avro, sought to create a multi-functional training aircraft. They took their already-successful Avro Tutor and made some minor adjustments to the design, which meant the 626 could be used for all aspects of air crew training, including flying, air navigation, wireless and gunnery. The first 626 flew in 1930.
Four brand-new Avro 626 aircraft arrived in New Zealand in 1935 and went into service with the New Zealand Permanent Air Force as advanced pilot trainers. The original order was for eight aircraft, but, with war clouds on the horizon in Europe, the remaining four were retained in Britain for the rapidly-expanding Royal Air Force. The 626s saw several years of front-line service, before the introduction of the Fairey Gordon in 1940 relegated them to second-line training duties. By 1943 all four had been withdrawn from service.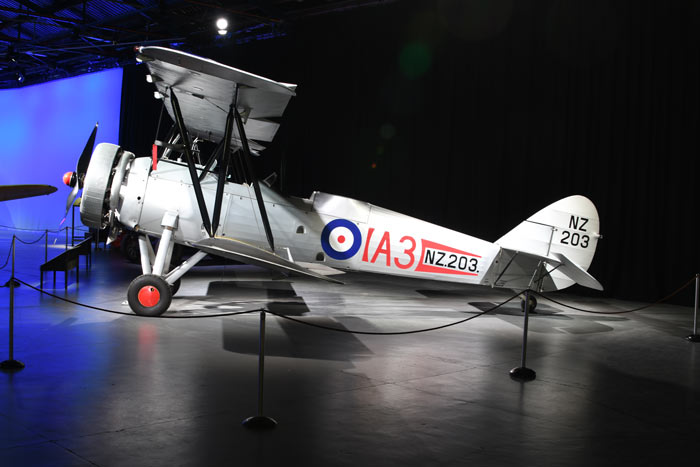 NZ203
NZ203 entered service with No. 1 Flying Training School at Wigram in 1935. In 1943, it was converted to an instructional airframe and issued to the Hastings Air Training Corps squadron, which used it for lessons in aircraft engineering. NZ203 was sold by the War Assets Realisation Board in 1947 to Mr Jim Frogley of Havelock North. Having not flown since 1958, its civil registration (ZK-APC) was cancelled in 1965 and the aircraft placed into storage. In 1981 NZ203 was once again purchased by the RNZAF, and it was restored to flying condition at Ohakea. Following its first post-restoration flight on 8 July 1985, it moved to Wigram to form part of the RNZAF Historic Flight, until an engine malfunction grounded it. It has been on static display at the Museum ever since.