Bristol 170 Freighter Mk.31M
With its bulbous nose, clamshell doors and slab sides, there are few aircraft as distinctive as the Bristol Freighter, a solid workhorse which made its mark in the conflict zones of South-East Asia from the 1950s to the 1970s.
The Bristol Freighter had its origins in World War Two, when the British Air Ministry sought a rugged transport aircraft capable of carrying heavy cargo, including vehicles. The first prototype flew in December 1945, but, with the War already over, it was repurposed as a largely commercial aircraft, being used as a cargo freighter, airliner, and an air ferry for cars and passengers.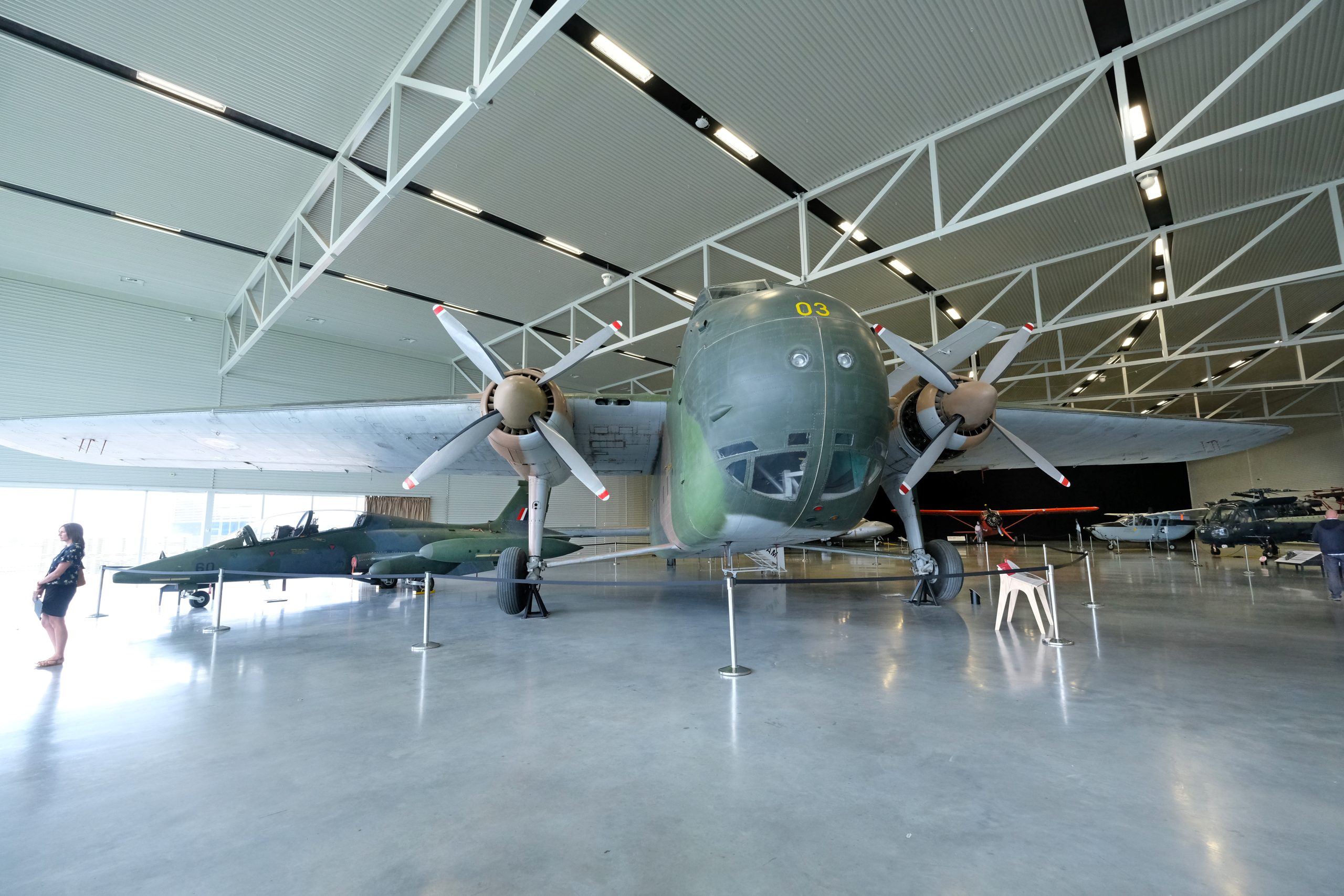 The RNZAF was one of a small handful of military operators of the Freighter. 12 were ordered as part of the post-War reorganisation of the RNZAF, and arrived between 1951 and 1955, equipping No. 41 Squadron at Whenuapai as a replacement for its C-47 Dakotas. With New Zealand entering the South-East Asia Treaty Organisation (SEATO) in 1954, No. 41 Squadron was posted to Singapore in May 1955, where it formed part of the Commonwealth strategic reserve, contributing to the collective defence of the region against communist insurgency. This was the beginning of a 22-year continuous presence of the RNZAF's Freighters in South-East Asia, which saw them operating in and out of Thailand, Borneo, Brunei, Malaya (later Malaysia), and South Vietnam.
Some Freighters remained in New Zealand with the Transport Support Unit (TSU), carrying out conversion training and general transport duties around New Zealand. The TSU became part of the re-formed No. 3 (Battlefield Support) Squadron in 1965, and then in turn, No. 3 Squadron's Freighters were reformed as No. 1 Squadron in 1972. The Freighters carried out a variety of tasks in and around New Zealand, including trialing a passenger service to the Chatham Islands, transporting luggage of visiting dignitaries, delivering aid to the Pacific Islands, and ferrying prisoners. On several occasions in the 1970s, they were also called on to airlift passengers and vehicles across Cook Strait, when industrial disputes disrupted the ferry service.
While not renowned for their speed or comfort, the Freighters proved themselves a reliable workhorse, and those who flew in them regarded them with some affection – usually after the fact! Because of this, the Freighter earned more nicknames than probably any other RNZAF aircraft – Bristol 'Ugly', 'Bone-shaker', 'Frightener', 'Bulbous-nosed bumblebee' and the evocative '40,000 rivets flying in close formation' – to name a few.
Two Bristol Freighters were lost in fatal accidents while in service – one near Woodbourne in 1953, the other in the Cameron Highlands of Malaya in 1956. The remainder of the fleet was withdrawn from service in 1977 and sold, with several returning to New Zealand skies with a civilian operator.
NZ5903
Freighter NZ5903 was manufactured at the Bristol Aeroplane Company factory in 1951 and flown to New Zealand, entering service with No. 41 Squadron RNZAF on 10 March 1952. It served in New Zealand and the Pacific, as well as on operations throughout South-East Asia. It was one of three Freighters deployed to Korat, Thailand, in June 1962 as part of 'Operation Scorpion', a SEATO-led effort to defend the country against attack by communist forces. Later, '03 saw service during the Vietnam War, flying supply missions from Singapore for the New Zealand units operating in South Vietnam. During April 1975, it was based at Tan Son Nhut airport in Saigon, ferrying relief supplies and evacuating refugees. '03 flew its last flight out of Saigon on 20 April, the day before the final RNZAF withdrawal, and ten days before the city fell to North Vietnamese forces and the Viet Cong. After returning to New Zealand and transferring to No. 1 Squadron at Whenuapai, '03 flew the last ever flight of an RNZAF Bristol Freighter when it flew to Wigram on 16 March 1978, to become part of the Air Force Museum of New Zealand's collection. It is displayed today in its original camouflage scheme, as worn when serving with No. 41 Squadron in South-East Asia.