De Havilland D.H.82A Tiger Moth Mk.II
Specifications
Display identity: NZ825
RNZAF serial no. NZ1481
Manufacturer's no. DHNZ 161
On display in the Thérèse Angelo Wing
One of the most well-known training aircraft of all time, the de Havilland Tiger Moth was the only RNZAF aircraft to be built in a New Zealand factory during World War Two.
The Tiger Moth was designed in the early 1930s by renowned British aeronautical engineer Geoffrey de Havilland, and went on to become one of the most numerous training aircraft for British and Commonwealth pilots. With war on the horizon, the de Havilland Aircraft Company established a factory at Rongotai in Wellington in March 1939, to meet the coming demand for Tiger Moth trainers. The RNZAF placed its first order in August, for 100 aircraft to equip the four elementary flying training schools that were hastily being established around the country. Civilian-owned Tiger Moths were also impressed into service, and others shipped from Britain.
The RNZAF operated 335 Tiger Moths between 1939 and 1956. 102 were written off in accidents during the War, and another 190 were sold off from 1946 to 1949. The remainder were retained for miscellaneous training and communications duties. A small number of RNZAF Tiger Moths were used for fire patrols in the Central North Island during the summer months of the late 1940s, while others returned to pilot training with the reformed Territorial Air Force squadrons between 1950 and 1955.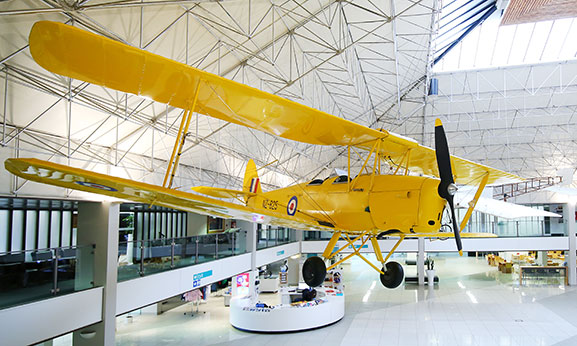 NZ1481
Assembled at Rongotai in 1943, this aircraft entered service on 25 January 1944 at No. 2 Elementary Flying Training School at Ashburton. It went into storage after the War until 1951, when it was converted to an instructional airframe and allocated to No. 1 Technical Training School at Hobsonville. In 1965 the aircraft was passed to No. 12 Squadron Air Training Corps in Invercargill before coming to the Air Force Museum of New Zealand in 1977. It was rebuilt by a team of volunteers known as 'the Moth Doctors', and given the display identity of NZ825, a Wigram-based Tiger Moth.