Specifications
RNZAF serial no. NZ2504
Manufacturer's no. 5219
On display in the Aircraft Hall
The RNZAF received 48 Grumman Avengers in 1943-44 to equip its two torpedo bomber squadrons, Nos. 30 and 31, both of which carried out operational tours in the Pacific during World War Two. In late 1944, 16 were returned to the US Government, and at the end of the War, nine were transferred to the Royal Navy. The RNZAF retained 12 Avengers; six were sold for scrap in 1948, and the remaining six were used for drogue (target) towing and general duties with No. 42 Squadron at Ohakea until 1959.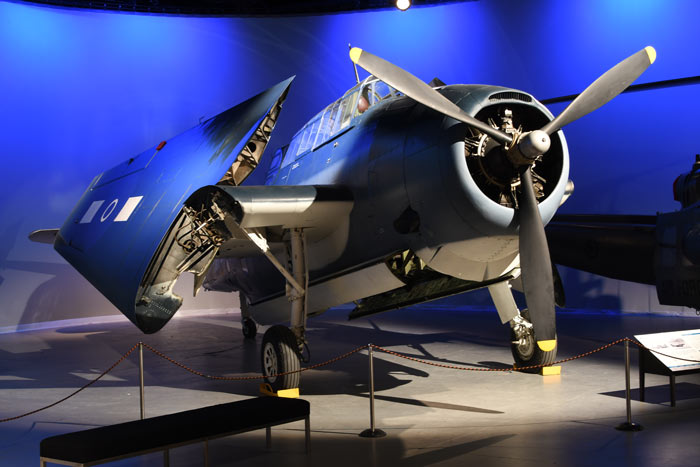 NZ2504 was received by the RNZAF on 21 September 1943 as one of the first shipment of six Avengers. It was issued to No. 30 Squadron at Gisborne on 5 October 1943 and used both by No. 30 and later, No. 31 Squadron, for crew training. As it was an early model, it was not designated for overseas operational service. On 21 September 1944, NZ2504 was converted to a target tug and used by the Target Towing Flight at Ardmore and with the Fighter Gunnery School at Ohakea, before going into storage in September 1945. On 15 August 1948, it was removed from storage and issued to the General Purpose Flight at Ohakea for conversion to a top dresser for the Government-sponsored aerial top dressing trials. NZ2504 continued in this task until November 1949 when it was issued to No. 42 Squadron for target towing duties in support of the RNZAF, RNZN and NZ Army units.
NZ2504 made its final flight on 30 June 1959, to Hamilton. It was towed to RNZAF Te Rapa, where it was allocated the identity INST 182 and mounted as a gate guardian at the station entrance. It remained there until November 1978, when it was towed to RNZN Base Devonport and shipped to Christchurch on the flight deck of HMNZS Waikato. NZ2504 finally arrived at Wigram, where it was subsequently restored for the Museum's collection.