North American Harvard MKIII
Specifications
Display identity: NZ948
RNZAF serial no. NZ1087
Ex-RAF serial no. EZ331
Manufacturer's no. 88-16326
On display in the Aircraft Hall
The distinctive growl of the North American Harvard was a familiar sound in the skies above Christchurch for over three decades. Reserved for advanced single-engine flying training during World War Two, the Harvard later became the RNZAF's principal initial pilot training aircraft.
Developed in the mid-1930s, the Harvard was designed specifically as an advanced pilot trainer that had all the attributes, and much of the equipment, of an operational combat aircraft. The rapid increase in the need for training aircraft early in World War Two, both in the United States and in Britain, led to large orders being placed for the Harvard.
105 Harvards were allocated to the RNZAF as part of the Empire Air Training Scheme in December 1939 and began arriving in March 1941. A further delivery in May 1941 saw a total of 60 aircraft in service with No. 1 Service Flying Training School (SFTS) at Wigram and No. 2 SFTS at Woodbourne. A third shipment in early 1942 went to No. 3 SFTS at Ohakea. Further aircraft were obtained to replace those lost in accidents. In all, the RNZAF operated 202 Harvards from 1941 to 1977 in a broad range of training and communication roles.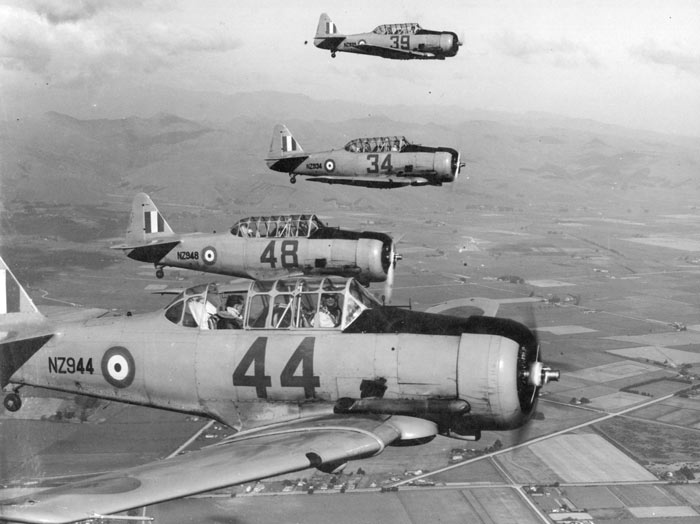 NZ1087
Originally manufactured in 1944 as part of an order for the Royal Air Force, NZ1087 was diverted instead to New Zealand. Having arrived in July 1944, it served first with No.1 SFTS at Wigram until 1945, when it was transferred to Ohakea. Following structural modification at Woodbourne, a short period with No. 1 (Territorial Air Force) Squadron and a period in storage between 1957 and 1962, NZ1087 returned to service at Wigram, and flew with the RNZAF's Red Checkers aerobatic display team. It took part in both the Harvard 30th Anniversary Flypast over Christchurch in March 1971, and the final Harvard Flypast over Christchurch in June 1977. Allocated to the Air Force Museum of New Zealand in 1981, NZ1087 is currently displayed as NZ948 of No. 2 SFTS, Woodbourne.