Schleicher KA 4 Rhonlerche II Glider
Specifications
New Zealand civil registration ZK-GBQ
Construction no. 392/38
Currently stored in the Reserve Collection
Can be viewed on the Daily Tour
This glider, once owned and operated by the Air Training Corps (ATC), is one of only four examples on public display around the world.
The Ka-4 was designed by Rudolph Kaiser and manufactured by Alexander Schleicher Sailplanes in Germany during the 1950s. ZK-GBQ arrived in New Zealand in 1958, having been purchased by the Tauranga Gliding Club. It was sold to the Waipukurau Gliding Club in 1969, and in 1975, the Hastings Division of the Air Force Association purchased it for No. 11 Squadron ATC.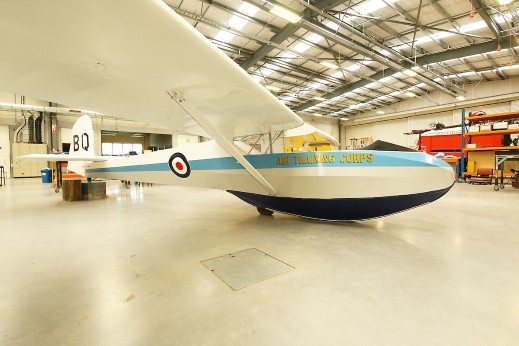 For several years, it was used for cadet training, before ultimately being gifted to the Air Force Museum. Following a large fundraising effort, it was refurbished for display in 1991, to mark the 50th anniversary of the ATC.
25 years later, the glider was once again brought out of storage for the ATC's 75th anniversary celebrations.