Supermarine Spitfire LF Mk.XVIE
Specifications
Display identity: 'OU-V' of No. 485 (NZ) Squadron RAF, 1945
RAF serial no. TE288
Manufacturer's no. 11892
On display in the Aircraft Hall
Although the RNZAF did not operate Spitfires in its own right, many hundreds of New Zealanders piloted them while serving with the RAF during World War Two. No. 485 (NZ) Squadron RAF was equipped with Spitfires, and was manned mainly by New Zealand pilots.
This aircraft was manufactured at the Castle Bromwich Aeroplane Factory in England in May 1945. It was too late to see active service during World War Two, although it did serve for a short time with several RAF squadrons and training units before being placed into storage.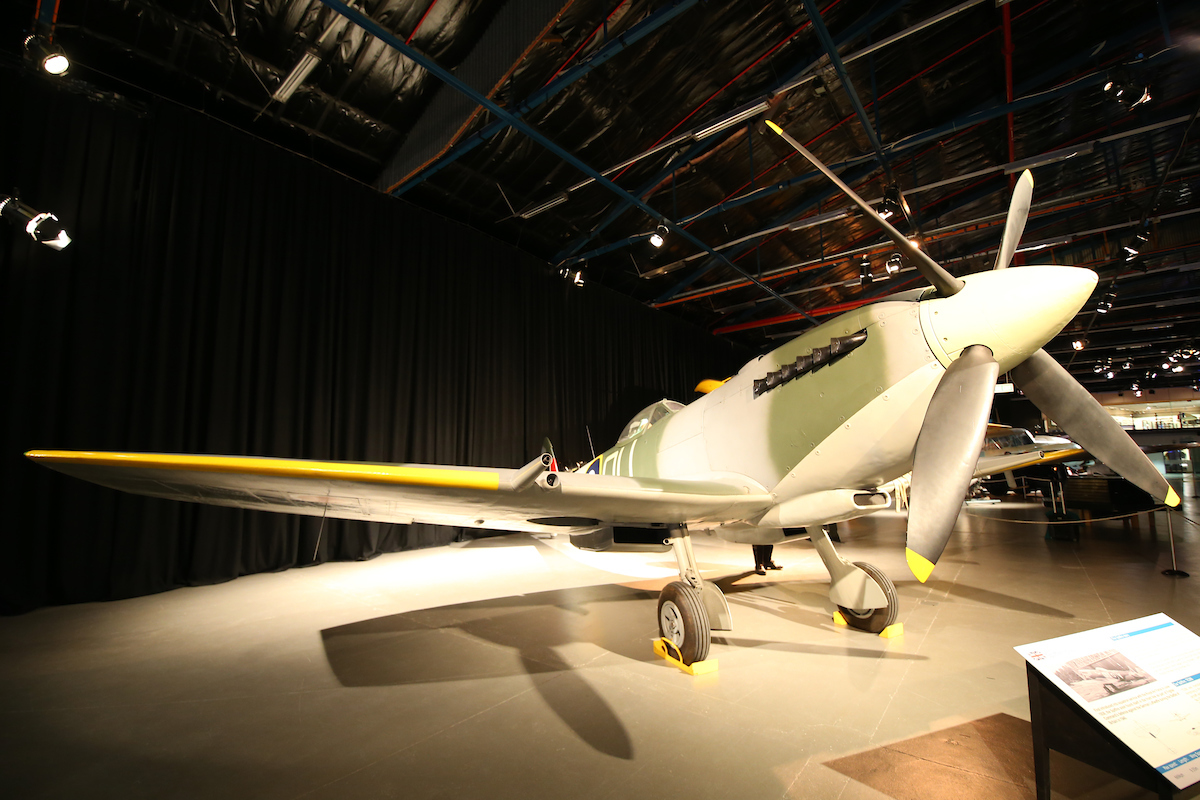 In 1955, TE288 featured in the movie 'Reach for the Sky', based on Paul Brickhill's biography of wartime fighter ace Douglas Bader. As a non-airworthy example, TE288 was used for static, close-up cockpit shots only, including publicity shoots with the starring actor, Kenneth Moore. After filming, TE288 was used to promote the movie, being placed on public display outside a number of cinemas up and down the United Kingdom. It was subsequently allocated as an RAF maintenance airframe (No. 7287M) from 24 October 1955 to April 1962.
In 1959, the Canterbury branch of the Brevet Club made an approach to the British Air Ministry to acquire a Spitfire for display outside its new premises in Christchurch. The request was successful and TE288 arrived at its new home and was mounted on a pole outside the Brevet Club at Christchurch International Airport on 3 March 1964. In 1983 the decision was made to transfer the aircraft to the Air Force Museum to guarantee its preservation. A fibreglass replica was made at RNZAF Base Woodbourne and this was swapped for the real aircraft in 1984. The replica can still be seen at Christchurch Airport.