On 25 August 1920, three men of the Canterbury (NZ) Aviation Company conquered one of the first great barriers to New Zealand aviation. Cook Strait, which separates the North and South Island of New Zealand is not a vast expanse of water, but changeable winds and weather, as well as strong currents and an icy sea made it a significant obstacle to early aeroplanes. The story of the crossing is one of competition, courage, disappointment and luck, and marked the beginning of a new era in aviation in New Zealand.
New Zealand's aviation pioneers
During World War One, pilots were trained in New Zealand at two schools, before going on to military service in Great Britain. The first, The New Zealand Flying School (NZFS), was based at Kohimarama near Auckland and founded by brothers Leo and Vivian Walsh in 1915. Former Christchurch Mayor and visionary Henry Wigram founded the Canterbury (NZ) Aviation Company (CAC) in 1916 at Sockburn (later renamed 'Wigram' in his honour), just outside Christchurch. So, the aviation activities of each company were neatly divided between the North and South Islands. After World War One, the two flying schools found business hard. No longer having an income from military training, both gave joyrides, attended events and demonstrated their aircraft.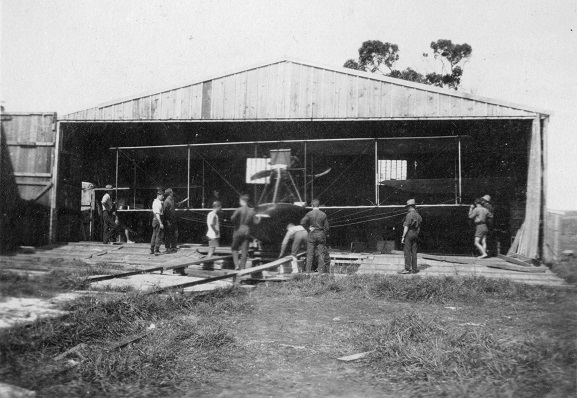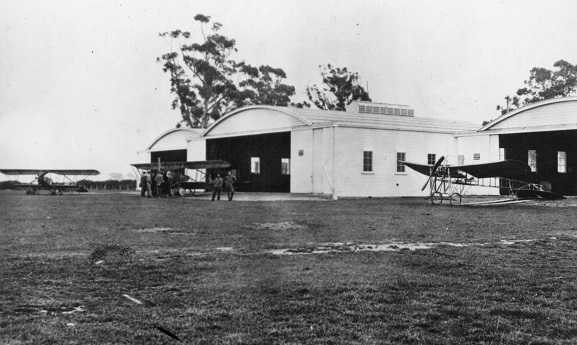 Inter-Island rivalry
By 1920, the financial situation had worsened. Both aviation companies needed money and travelled their respective islands in an effort to raise revenue through flights and demonstrations. The NZFS sent a DH.6 biplane to Wellington, with Captain Richard Russell as pilot. They arrived on 19 August 1920 at the Hutt Park racecourse in Petone, where they were joined by aviation pioneer George Bolt, with an Avro 504K arriving by rail on 24 August. The intention was that Russell would fly the Avro to Marlborough and Nelson to widen their exposure and income as a company.
The activity in Wellington had not gone unnoticed, however. The CAC was now somewhat on the back-foot. The possibility of an incursion by their northern rivals into the South Island was of considerable concern. Hearing Russell was at Wellington on 20 August, a decision was made to beat the northerners to the prize. They also learned on 24 August that there were plans for a new proposed aviation firm based in Timaru, to be called the New Zealand Aero Transport Company. Something spectacular had to be done.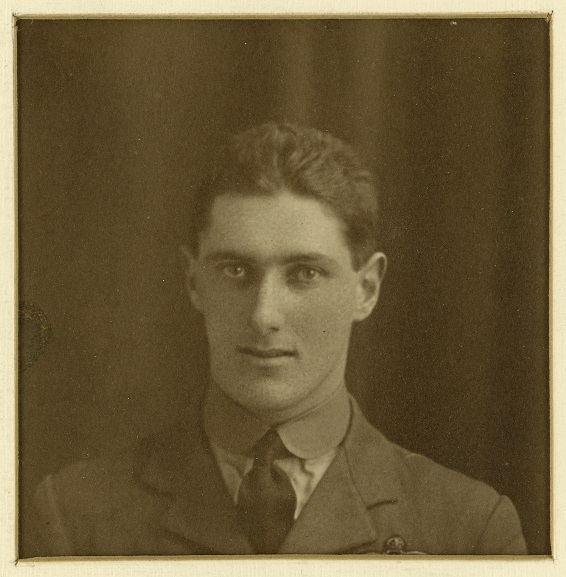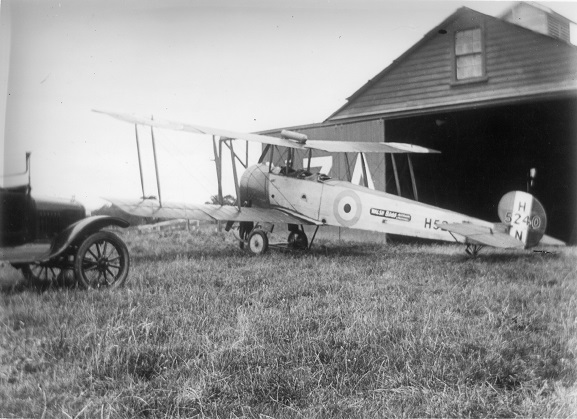 A plan is hatched
The plan was simple and the execution rapid. The CAC's Chief Pilot, World War One veteran Captain Euan Dickson, took off from Sockburn on 25 August 1920 at 7am, in an Avro 504K. Flying with him was C.H. Hewlett, Deputy Chairman of the Company, and mechanic J.E. Moore. They followed the coast north and landed at Kaikoura at 9.30am for a petrol stop, arriving at Blenheim at 11.50am.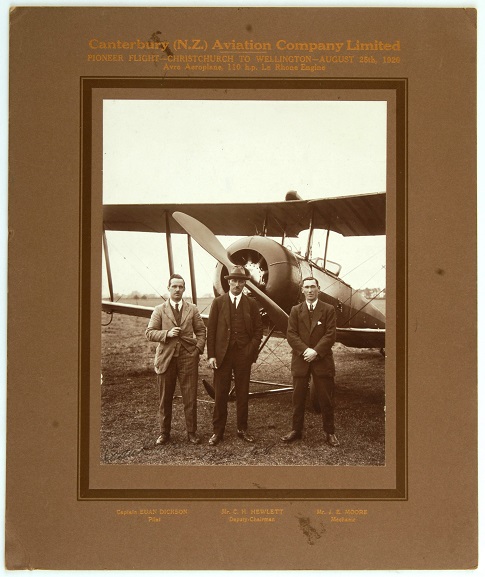 History is made
The attempt on Cook Strait began at 12.55pm. Dickson recorded the flight in his logbook, which is now in the collection of the Air Force Museum of New Zealand:
"…followed coast to Arapawa Island and then across – only incident being cloud flying for about 10-15 minute at 6000 feet. Landed at Trentham Racecourse at 2:10pm."
In an interview with the Press in 1970, marking the 50th anniversary of the flight, the 78 year-old Dickson recalled the primitive safety measures and risks of the flight:
"It was a haphazard style of flying in those days. We always gained as much height as possible. We crossed the straight at 6000 feet – and all the time I was keeping an eye on the coastline. If anything had gone wrong we would have had to take our chance and go down on the coast… I don't know why we had no life jackets. It would have been a good idea when I think of landing in the Strait."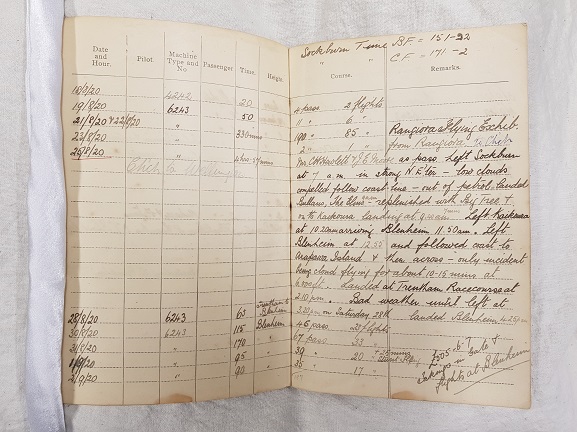 Landing at Trentham
Word was sent ahead of the flight and small fires were lit along the racecourse by the Trentham caretaker, Joseph Scott to guide Dickson into land, after he had put on a good show over Wellington; the unique sound of an aircraft overhead was enough even to draw politicians out of Parliament to watch the spectacle.
The NZFS staff, still assembling their Avro, witnessed Dickson pass overhead, much to their disappointment. Although friendly rivals, as kindred airmen, they were among the first to recognise the achievement. For them, the disappointment was later compounded by tragedy. The popular Richard Russell, who would have made their attempt, was killed just months later, on 11 November 1920 while flying passengers at New Plymouth.
The historic journey had taken over 7 hours, with the total flight time being 4 hours and 57 minutes. On board was also the country's first official air mail between the South and North Islands, demonstrating the future potential for this method of delivery.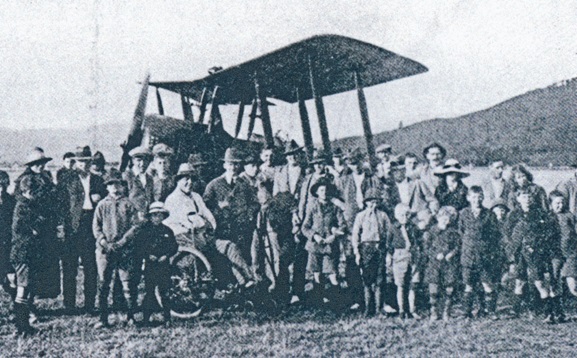 Fame and legacy
On 28 August, the CAC Avro returned to Blenheim and business as usual – making money. They stayed there until 4 September, during which time they made nearly 100 flights and carried 166 passengers, as well as performing some stunt flying. Dickson was already a well-known wartime flying ace, but the Cook Strait crossing was huge news across the land and gave him hero status. The New Zealand Times wrote:
"…the feat of Captain Dickson takes its place among the records of aviation. It is to New Zealand what Bleriot's flight over the English Channel was to the whole world."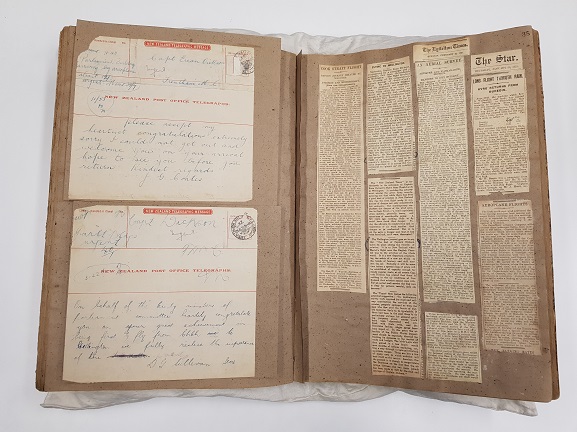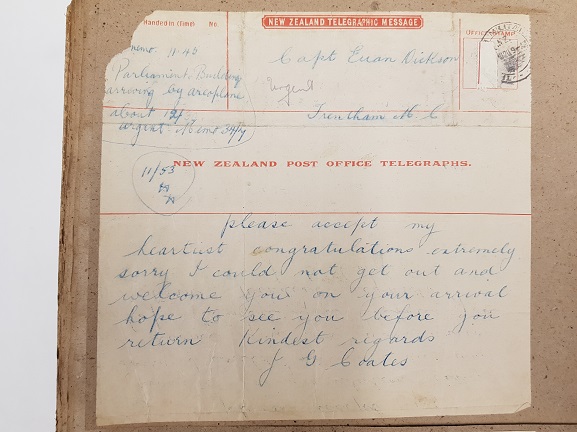 The true importance of the flight may not have been fully appreciated at the time or by those involved. Dickson retired from professional aviation in 1943 to set up his own business. In 1970, commemorating 50 years since his epic flight, he commented:
"I never thought that flying would develop to the extent it has now".
While perhaps eclipsed by Charles Kingsford Smith's crossing of the Tasman eight years later, the first flight across Cook Strait represented a significant milestone in aviation in New Zealand, by conquering natural obstacles and showing the potential for future commercial air services.
Read more
'First flight across Cook Strait: 25 August 1920', New Zealand History, nzhistory.govt.nz/page/first-flight-across-cook-strait