This week, May 21st – May 28th 2021, is the first ever War Graves Week, a celebration of the amazing work done by the Commonwealth War Graves Commission (CWGC) in preserving the graves and memorials of service people around the world. The burial and commemoration of the dead of both world wars was a massive undertaking and their continued care by the Commission is a worldwide venture. Thousands of New Zealanders' graves are looked after, both in Aotearoa New Zealand and overseas. Here is the story of just one of millions of graves, drawn from digitised records in the CWGC archives, now available online, and our own collections.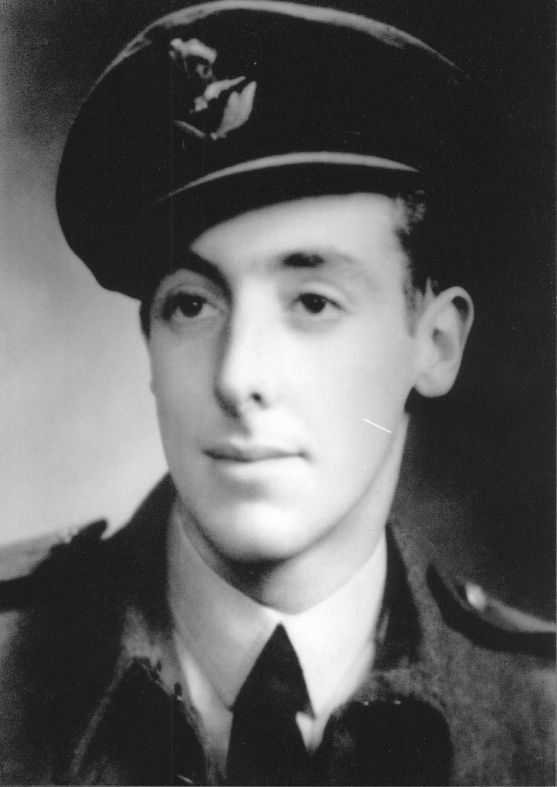 NZ4211615 Pilot Officer Francis Charles Matthews was just 20 when his Spitfire was struck by debris from a train he was strafing on 6 January 1945 in Holland. It is unclear, precisely how he died, either by bailing out too low or by crash landing. His unit, No. 485 (NZ) Squadron was told on 8 January that he died on the 7th from injuries, but this conflicts with CWGC records. Also killed in the same incident was NZ411996 Flight Lieutenant Allan Benneto Stead DFC, who died during his crash landing.
What is known is that Francis was initially buried in Zuylen Breda temporary burial ground, sometime between 6-9 January 1945. As had happened after the First World War, once the fighting stopped, many war graves would be identified and re-buried in larger concentrated cemeteries. Francis' was no exception and on 6 May 1946, he was moved and reburied at the much larger Bergen-op-Zoom British War Cemetery. He is one of 1,284 commonwealth burials there.
You can see the record of his re-burial here.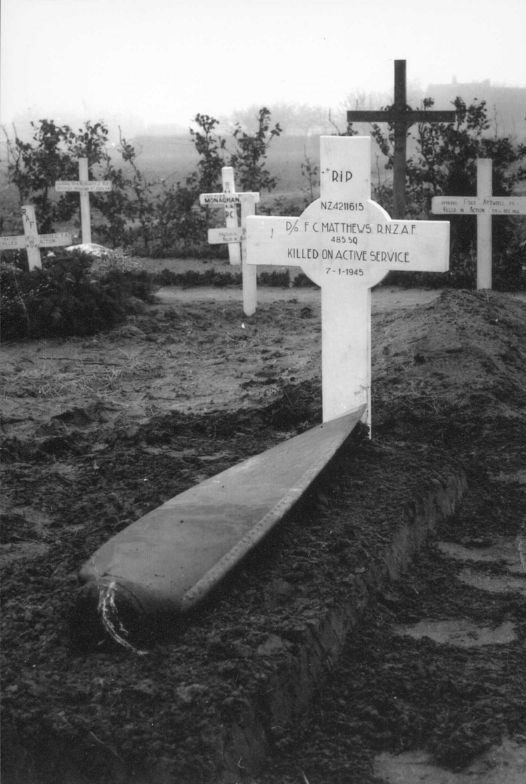 It is possible that this photograph records his original burial at Zuylen Breda and is interesting as it has a propeller blade from his Spitfire lying on top of the grave. The marker was a temporary wooden one, pending a permanent stone headstone. As to what happened to the propeller blade, we shall probably never know.
After reburial, his grave was formally registered and recorded in 1956. The process of locating, identifying (if possible) and concentrating burials took many years and the work of special RAF units to assist the CWGC. You can see Francis' grave registration document here.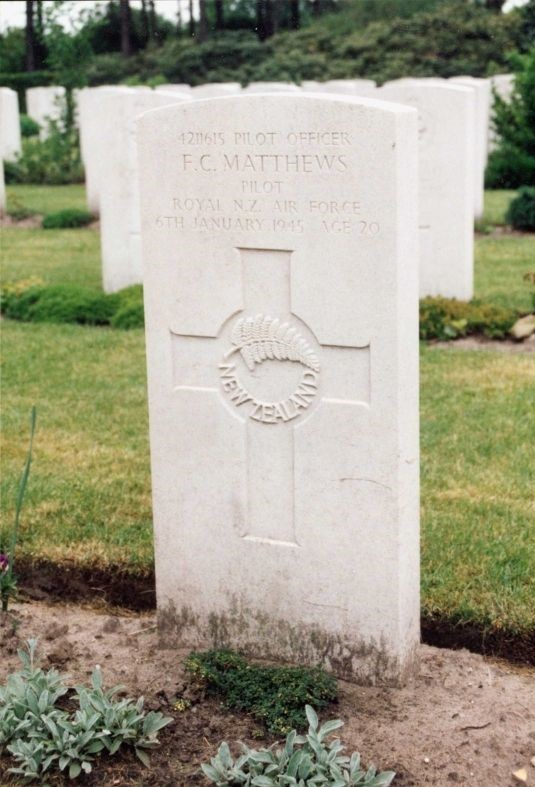 The final stage of the development of Francis Matthews' war grave was the placement of the distinctive Portland stone headstone, so familiar in CWGC cemeteries around the world. The details of what was inscribed are recorded here.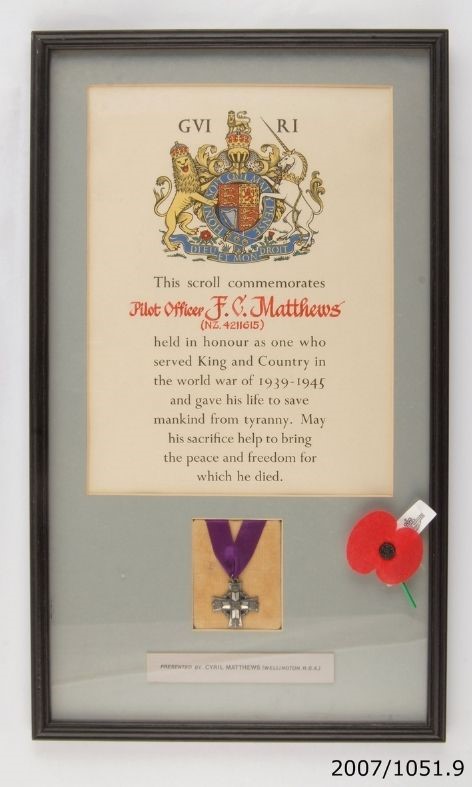 For Francis' parents, Charles and Harriet Matthews of Palmerston North, there were at least other tangible objects to record his sacrifice. A memorial scroll and memorial cross were sent to all New Zealand families who lost relatives. Later framed, they were passed down through the family. Poignantly, much later, an RSA poppy was taped to the glass. The collection was subsequently presented to the Air Force Museum.
The role of the CWGC in continuing to locate and identify graves that are found after many decades continues to this day and from time to time the NZDF and our team here at the Air Force Museum are called on to participate in this research.
Ka maumahara tonu tātou ki a rātou – We will remember them.
You can find out more about the history and work of the CWGC (and search their records for your whānau) on their website.