This year's 125th anniversary of women's suffrage in Aotearoa has got us thinking about the influence gender equality has had on women serving in the New Zealand Armed Forces. Louisa Hormann of the Research Team discusses Women at War by D.O.W. Hall, and military roles for women in wartime New Zealand.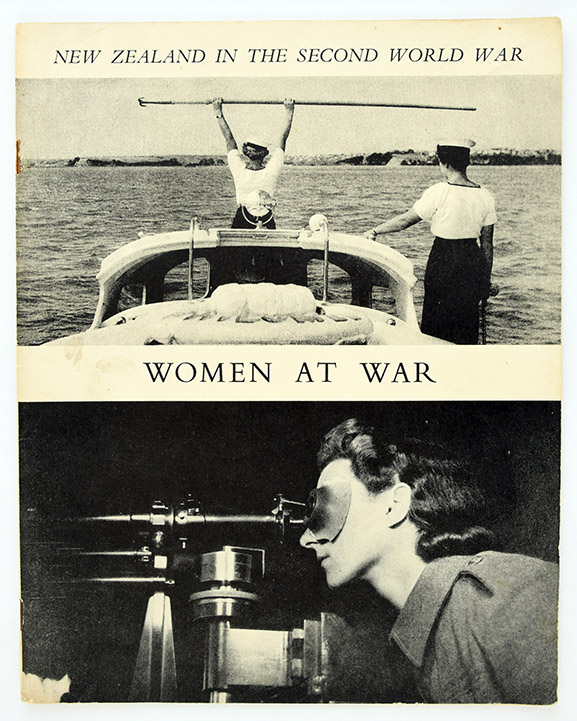 Last week I attended the Regional National Digital Forum (NDF) for arts, culture and heritage sector professionals working on digital culture and heritage projects in the Canterbury region.
A definite highlight for me was learning about Ngā Taonga Sound & Vision's recent Whakatū Wāhine Suffrage 125 project, 'Voices of Women Voters of 1893' – digitised recordings of women who signed the suffrage petitions and voted back in 1893. Check out the online exhibition ; it's well worth a listen!
Here at the Air Force Museum, this year's 125th anniversary of women's suffrage in Aotearoa has got us thinking about what influence gender equality has had on women serving in the New Zealand Armed Forces.
Women have officially served as full members of New Zealand's Army, Navy and Air Force since gender integration in 1977. But prior to this, thousands of Kiwi women served in women-only Auxiliary Services during the World War Two in support of the three Armed Services. So for this Reading Room blog, I've chosen the New Zealand in the Second World War Official History: Women at War by D.O.W. Hall.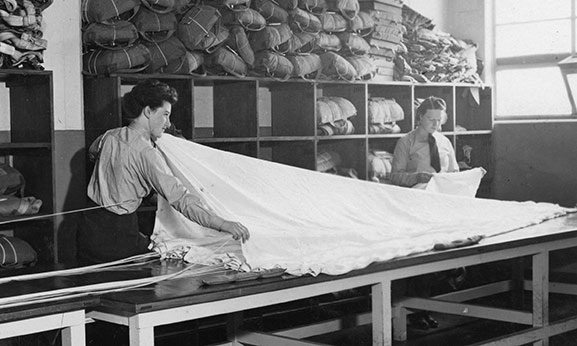 Record of service
This booklet is one of a series produced after World War Two by the New Zealand Government to record aspects of New Zealand's role in the War which would not be included in the Official History campaign volumes, but 'are considered either worthy of special notice or typical of many phases of our war experience', wrote Major-General Kippenberger, Editor-in-Chief of the New Zealand War Histories. [1]
The booklet includes sections on the Women's War Service Auxiliary (WWSA), Women's Auxiliary Army Corps (WAAC), Women's Royal New Zealand Naval Service (WRNZNS), and Women's Auxiliary Air Force (WAAF). New Zealand's Volunteer Aid Detachment (VAD) and New Zealand Army Nursing Service (NZANS) are also described.
The cover images show Wrens, as they were known, in the Commodore's Barge, and a WAAC worker at a battery observation post.
The WAAFs might not have made it onto the booklet's cover, but they were in fact the first of the separate women's Services to form on 16 January 1941. Women were employed in a variety of tasks that included clerical, domestic and medical support, as well as parachute packing and transport.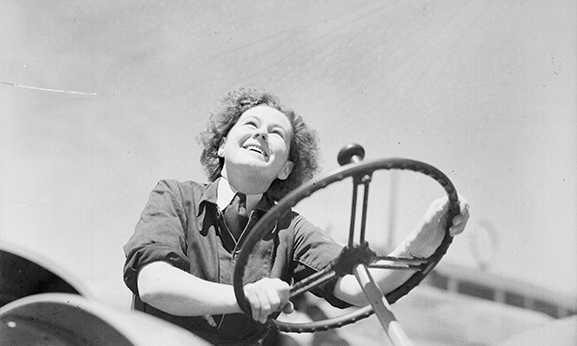 Another great digitisation project by NZ on Screen and Archives New Zealand allows us to see what kind of roles women had in the WAAF – check out the "Behind Our Planes" wartime propaganda film here. Produced by the National Film Unit, it celebrates the role of women in the Air Force, and acted as a recruitment channel for getting women to enlist. The film shows some WAAF members in more traditional roles involving sewing and typing, but explains that more male-dominated jobs were being taken on by women as they trained as metal workers, mechanics and drivers.
Wartime necessity
Unlike in Britain, women in New Zealand were not recruited immediately on the outbreak of World War Two. British women (and at least two New Zealanders) had already served in the Women's Royal Air Force (WRAF) 1918-1920, and this role was reintroduced from 1938 in Britain with the formation of the Women's Auxiliary Air Force (WAAF) within the Royal Air Force.
The creation in New Zealand of a similar WAAF came about primarily as a result of the need to free-up male RNZAF personnel for active service. After further planning, advertisements appeared in daily newspapers around New Zealand on 31 January 1941 calling for recruits for the WAAF. On applying to join the WAAF, women were medically assessed and interviewed to determine which trade would be most suitable. They were then posted to an RNZAF station to commence their work.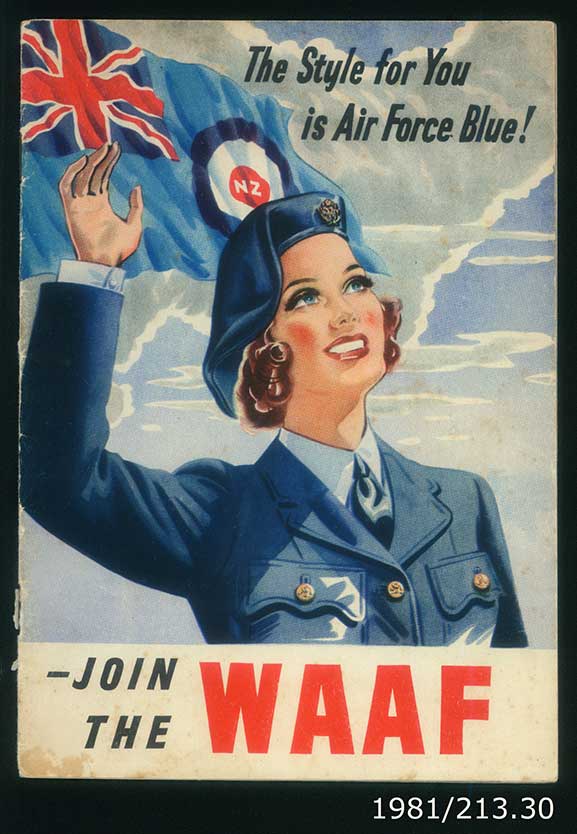 By January 1942, eleven RNZAF stations across the country employed WAAFs; by the War's end, twenty eight stations had seen WAAF personnel. In all, 4,753 WAAFs were mobilised during the War, making up around 8% of the total RNZAF numbers. They could be found in 39 different trades, many of which were highly skilled and involved women undertaking the same training and tests as the men they replaced. As the booklet notes, 'women had generally been considered to do their jobs in the Services as well as men …. and to do some jobs better than men'. [2] by 1942, WAAF personnel knew what they were capable of, stating in the RNZAF Contact magazine:
'The war, for women in uniform, has opened up wider spheres and revealed new horizons… Now we know that women are not curbed, that by foregoing the limited vision of our pre-war selves, we can venture as far as men.' [3]
References
[1] Major-General Kippenberger, in D.O.W. Hall, New Zealand in the Second World War Official History: Women at War, War History Branch, Department of Internal Affairs (Wellington) 1948, p.2
[2] Hall, Women at War, p.4
[3] "Compact Editorial", Contact magazine, March 1942, p.27