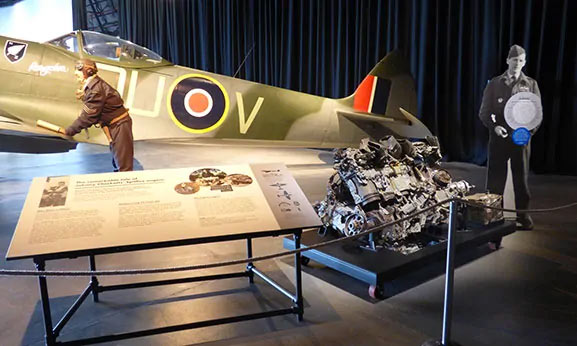 "His first attack was miles out and I thought I would get a shot at him next time around, but we both missed. His third attack was terrific and I saw all his cannon firing, also his spinner and engine cowlings. There was a terrific explosion at my feet and my cockpit filled with flames."
(Extract from The Road to Biggin Hill by Vincent Orange)
A relic of a flying legend
This piece of aviation history not only tells the remarkable tale of how Kiwi fighter ace Johnny Checketts' wartime crash site was rediscovered, but also the broader involvement of New Zealand fighter pilots in World War Two.
The Rolls-Royce Merlin engine from the Spitfire which Johnny bailed out of in 1943, was uncovered in France by French aviation enthusiast group 'Somme Aviation 39-45'.
They restored the engine, and it was donated to the Museum by Johnny's son Chris Checketts on behalf of Pierre Ben, the group's president.
The engine is displayed in the Aircraft Hall next to the Spitfire.