COME TO THE AIR FORCE MUSEUM AND BE AN AIR FORCE PILOT!
Cost: FREE. As the Air Force Museum is a registered charitable trust, koha (donations) are gladly accepted.
Programme duration: 45-60 minutes
To book, contact: Chris Davey, BA, Dip Tchg
Education Officer
Phone: 03 371 9670
Email: educ@airforcemuseum.co.nz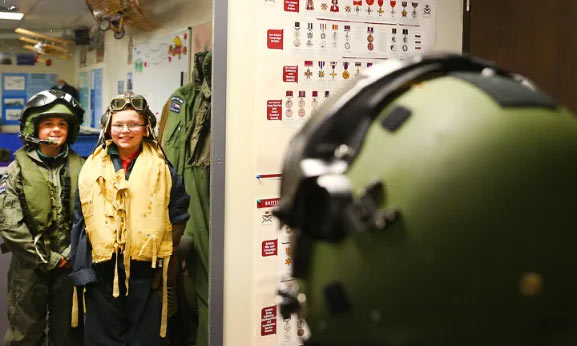 This programme is a popular choice for kindergarten groups. After listening to an interactive story about 'James the Air Force pilot', children first learn about, then try on real pilot's clothing, watch an Air Force video, sit in an ejection seat, and make a kitset glider to take home. A wonderful learning experience and great for photo opportunities.
Te Whāriki: Belonging 1, 2 & 4. Contribution 1, 2 & 3. Communication 1, 2, 3 & 4. Exploration 1, 2, 3 & 4.
Social Sciences: Identity, Culture, and Organisation
Technology: Technological Knowledge
English: Listening, Reading, and Viewing
Key Competencies: All