DISCOVER THE AIR FORCE'S ROLE IN SEARCH AND RESCUE
Cost: FREE. As the Air Force Museum is a registered charitable trust, koha (donations) are gladly accepted.
Programme duration: 45-60 minutes
To book, contact:
Chris Davey, BA, Dip Tchg
Education Officer
Phone: 03 371 9670
Email: educ@airforcemuseum.co.nz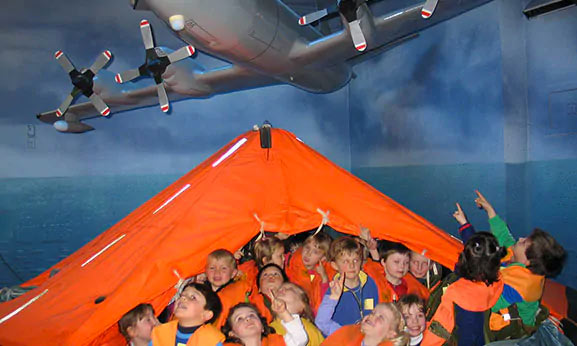 Through an interactive story, children learn about life rafts and water safety, discover the Air Force's role in search and rescue, and reinforce the wearing of life jackets. They then climb into a real life raft for that hands-on experience.
Te Whāriki: Belonging 1, 2 & 4. Contribution 1, 2 & 3. Communication 1, 2, 3 & 4. Exploration 1, 2, 3 & 4.
Social Sciences: Identity, Culture, and Organisation, Place and Environment
Technology: Technological Knowledge
English: Listening, Reading, and Viewing
Key Competencies: All