CHILDREN WILL BE FASCINATED BY THE SIGHT OF REAL AIRCRAFT ON DISPLAY
Cost: FREE. As the Air Force Museum is a registered charitable trust, koha (donations) are gladly accepted.
Programme duration: Allow 30-60 minutes for a Museum visit, 20 minutes for a Reserve Collection Tour, and 20 minutes for the Andover Flight experience.
To book, contact:
Chris Davey, BA, Dip Tchg
Education Officer
Phone: 03 371 9670
Email: educ@airforcemuseum.co.nz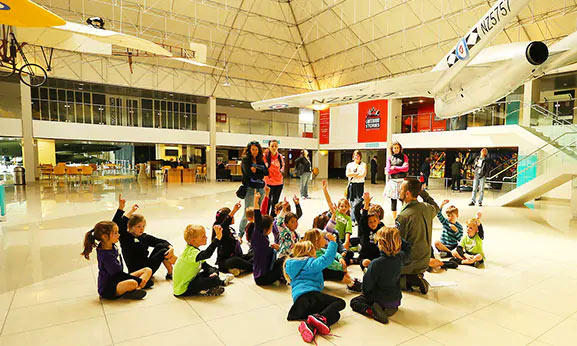 Children will be fascinated by the sight of real aircraft on display and captivated by the life-like dioramas in our galleries as they explore the Museum. A 'scavenger hunt' is included in the pre-visit kit, providing focused exploration as children tick off objects as they find them.
Make the most of your Museum visit by booking a tour of our Reserve Collection (subject to availability), located in our new building – just a short walk under cover from the Aircraft Hall. This not only allows children to see more aircraft 'behind the scenes', but also gives them the unique opportunity to climb inside a real Iroquois helicopter and Bristol Freighter transport aeroplane.
If time and weather allow, we can even take your group to our Andover aircraft, located in one of our historic hangars, and provide children with the chance to participate in a simulated flight and parachute jump – great for photo opportunities!
Te Whāriki: Well-being 2 & 3. Belonging 1, 2 & 4. Contribution 1, 2 & 3. Communication 1, 2, 3 & 4. Exploration 1, 2, 3 & 4.
Technology: Technological Knowledge, Nature Of Technology
Science: Physical World
Social Sciences: Identity, Culture, and Organisation, Place and Environment, Continuity and Change
Key Competencies: Thinking, Using language, symbols, and text, Managing Self, Relating to others, Participating and contributing.