Specifications
RNZAF serial no. NZ3801
Manufacturer's no. 4812
On display in the Aircraft Hall
The Bell UH-1 Iroquois is one of the world's most iconic helicopters, famous for its extensive role in the Vietnam War and distinctive sound.
The Iroquois was developed by Bell Helicopter Corporation in response to a request from the United States Army for a medical evacuation and general utility helicopter. The prototype first flew on 20 October 1956 and entered production in 1959. The aircraft was given the name 'Iroquois' in line with the US Army's policy of naming their helicopters after Native American tribes, and its universal nickname, 'Huey', was derived from a corruption of its official designation, 'HU-1' (later, 'UH-1'). The Huey's first combat operation was with US forces in South Vietnam, where more than 7,000 were used for troop insertion, cargo transport, medical evacuation and ground attack. Over 16,000 UH-1s were produced between 1956 and 1976, making it one of the most successful aircraft designs in history.
The RNZAF's first five Iroquois were UH-1D versions, which were delivered brand- new in 1966, and attached to No. 3 (Battlefield Support) Squadron, based at Hobsonville (later, Ohakea). A further nine aircraft, this time UH-1H versions, were received in 1970. While none of the RNZAF's Iroquois served in Vietnam, 16 New Zealand pilots from No. 3 Squadron were attached to No. 9 Squadron of the Royal Australian Air Force (RAAF) between 1967 and 1971, flying Iroquois in assault, troop transport, resupply and casualty evacuation operations in South Vietnam. The RNZAF Iroquois fleet, meanwhile, served with distinction with No. 3 Squadron for 49 years, performing a wide range of duties that included search and rescue, Army and Police co-operation, peacekeeping, disaster relief and support to New Zealand's scientific activities in Antarctica.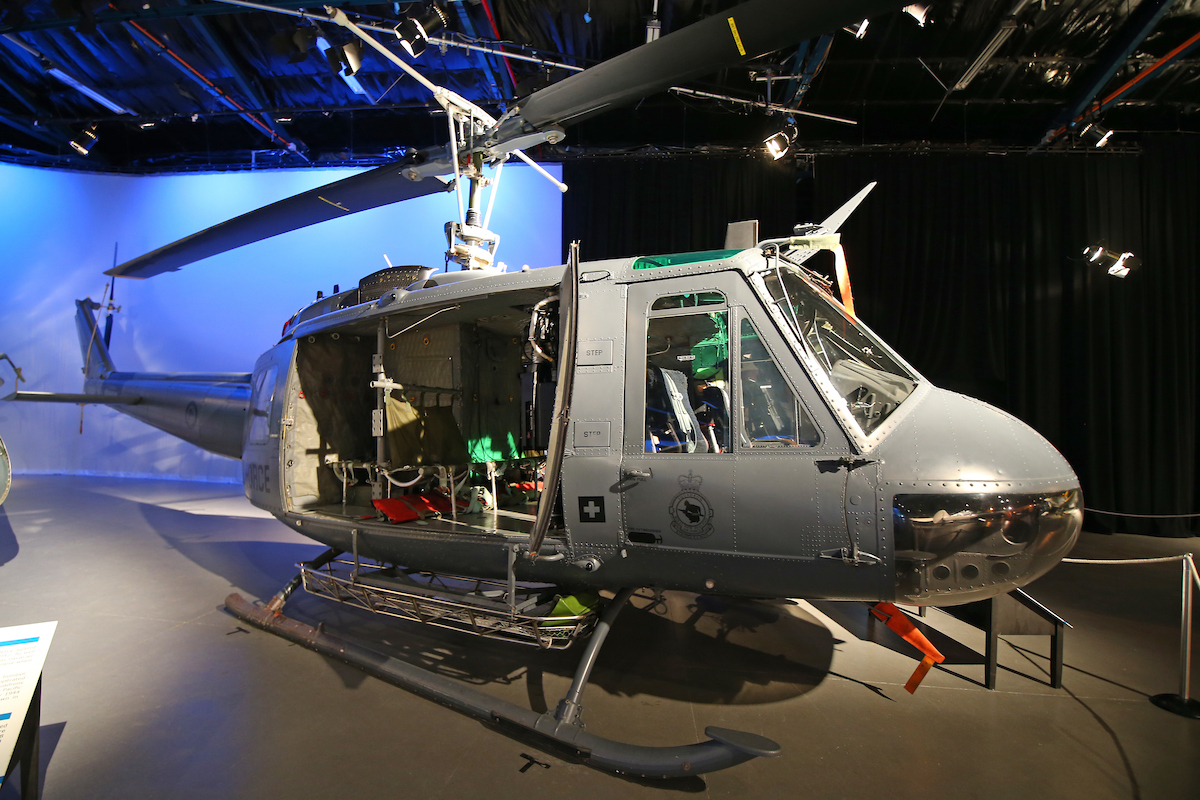 NZ3801
NZ3801 arrived at the Air Force Museum of New Zealand in August 2015, following its retirement from operational service in 2013. '01 was the first Iroquois to be received by the RNZAF, on 15 June 1966, and also the first to fly in New Zealand, one week later. It has seen service in Fiji, Singapore, Antarctica and Timor Leste, and was based for a time at Wigram with the No. 3 Squadron Detachment, carrying out Army Support and search and rescue duties.  It was also involved in many disaster relief operations, including the Canterbury earthquakes of 2010-2011.
The Museum has two other Iroquois, NZ3808, currently on loan at RNZAF Base Ohakea, and the ex-US Army 'NZ3800', which is used for education and public programmes purposes.