Bell UH-1H Iroquois 'NZ3800'
Specifications
Display identity 'NZ3800' (generic type example)
United States Army serial no. 69-15923
Manufacturer's no. AAB 12211
The Iroquois is one of the world's most iconic helicopters, famous for its extensive role in the Vietnam War and distinctive 'whock-whock' sound.
The Iroquois first entered RNZAF service in 1966, with five aircraft operating with No. 3 (Battlefield Support) Squadron at Hobsonville. Nine more were delivered in 1970. Two aircraft were based for many years at the No. 3 Squadron Detachment at Wigram for Army support and search and rescue duties, and four served in Singapore until 1989. RNZAF Iroquois were used in the Antarctic, in the South Pacific (especially in Bougainville and Solomon Islands), and in Timor Leste, performing a wide range of duties, before finally being retired from service in 2015.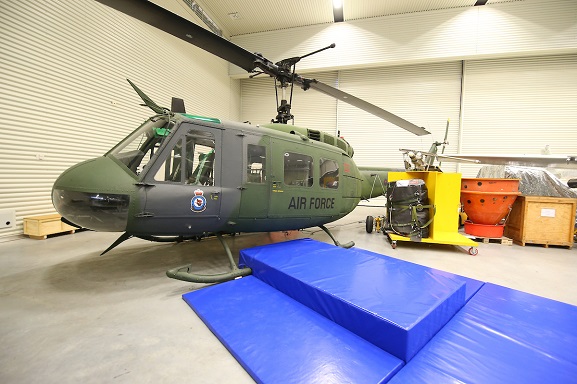 This ex-United States Army aircraft (serial 69-15923) was manufactured in 1970 and operated in the United States, Holland and in Germany with the 207th Aviation Company as a VIP transport. When US forces withdrew from Germany in 1994, it was gifted to the Air Force Museum of New Zealand and displayed in the paint scheme then used by No. 3 Squadron. With the generic serial number 'NZ3800' to indicate its status as a type example (no RNZAF provenance), it is often used to support the Museum's Education and Public Programmes.
The Museum also has an ex-RNZAF Iroquois, NZ3801, on display in the Aircraft Hall.