Specifications
Replica
On display in the Atrium
This aircraft is a replica of Britannia, New Zealand's first 'military' aircraft.
It was a larger and more powerful version of the Bleriot XI, the aircraft in which inventor-turned-aviator Louis Bleriot had famously become the first person to fly across the English Channel, in July 1909.
The XI-2 was presented to the New Zealand Government in 1913 by a group of English businessmen known as the Imperial Air Fleet Committee. After an embarrassing start – it arrived in New Zealand without its propeller – Britannia's first demonstration flights took place above the Auckland Showgrounds in January 1914. It was flown by official Government Pilot, Joe Hammond, one of the few New Zealanders who held a pilot's licence at the time.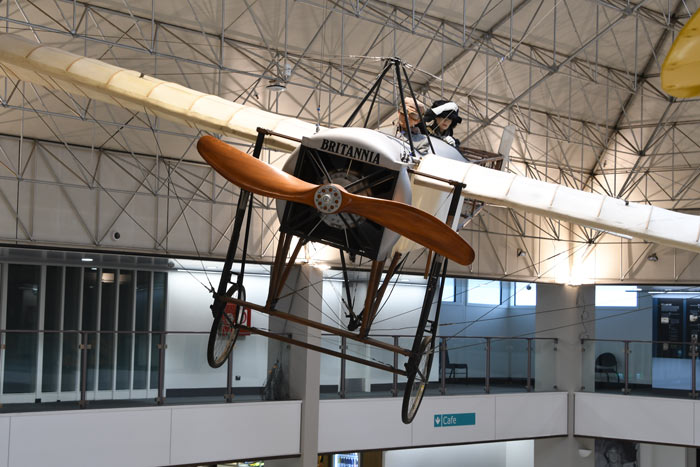 When the time came to choose a passenger, Hammond picked pantomime actor Esme McLellan rather than one of the many dignitaries present. It was an unconventional choice that probably humbled some of the officials, but there is no evidence to support the popular story that Hammond lost his job because of it.
Damage and equipment problems meant that Britannia's later flights were cancelled, and it went into storage. Following the outbreak of World War One, the Government decided that the aircraft would be of more use in Britain, and Britannia returned there in October 1914, having flown in New Zealand for only about two hours. It was written off in May 1915 after being involved in a fatal crash.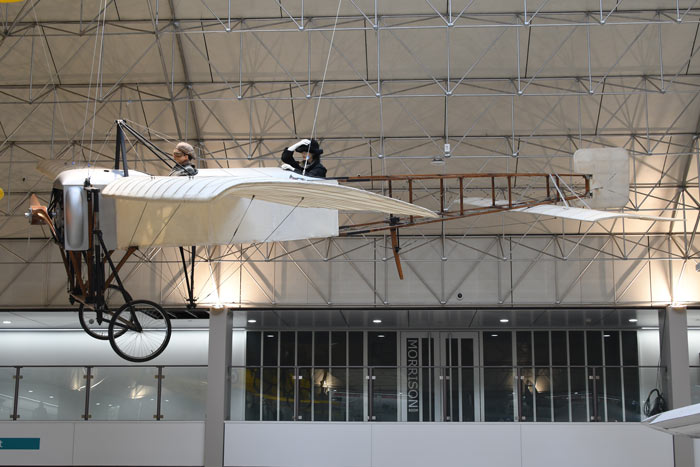 The Museum's replica Bleriot XI-2 was constructed by David Comrie at his home in Dunedin in 1985. While under construction, it was discovered that the aircraft being built was not the military version. Hurried changes were necessary to ensure the correct configuration, and finishing touches and fitting of the replica engine were undertaken at the Air Force Museum in time for its opening in 1987.
The display recreates the original Britannia on its exhibition flight with Joe Hammond at the controls, and Esme McLellan as his passenger.