De Havilland D.H.100 Vampire F.B. Mk.5
Specifications
RNZAF serial no. NZ5757
Ex-RAF serial no. WA311
Manufacturer's no. unknown
Distinctive for its twin-boom tail and combined wood and metal construction, the de Havilland Vampire was the first jet aircraft to be flown operationally by the RNZAF.
Originally developed as an experimental aircraft during World War Two, the Vampire went into production in 1944 and entered service as a combat aircraft with the Royal Air Force (RAF) in 1946.
The RNZAF operated more Vampires than any other aircraft type after World War Two; 58 in total, between 1951 and 1972. 18 brand-new FB.52 models arrived first in 1951-52 to equip No. 14 Squadron at Ohakea, soon followed by six T.55 dual trainers, while eight second-hand FB.5s were purchased from the RAF in 1953 to replace those lost in accidents. With the decision that Territorial Air Force pilots would undergo jet conversion training, another 21 ex-RAF FB.5s and five brand-new T.11s were acquired in 1955-56. Operationally, the Vampires served in the fighter and ground attack role with both 14 and 75 Squadrons, until the arrival of the Canberras between 1959-1961 reduced them to training only.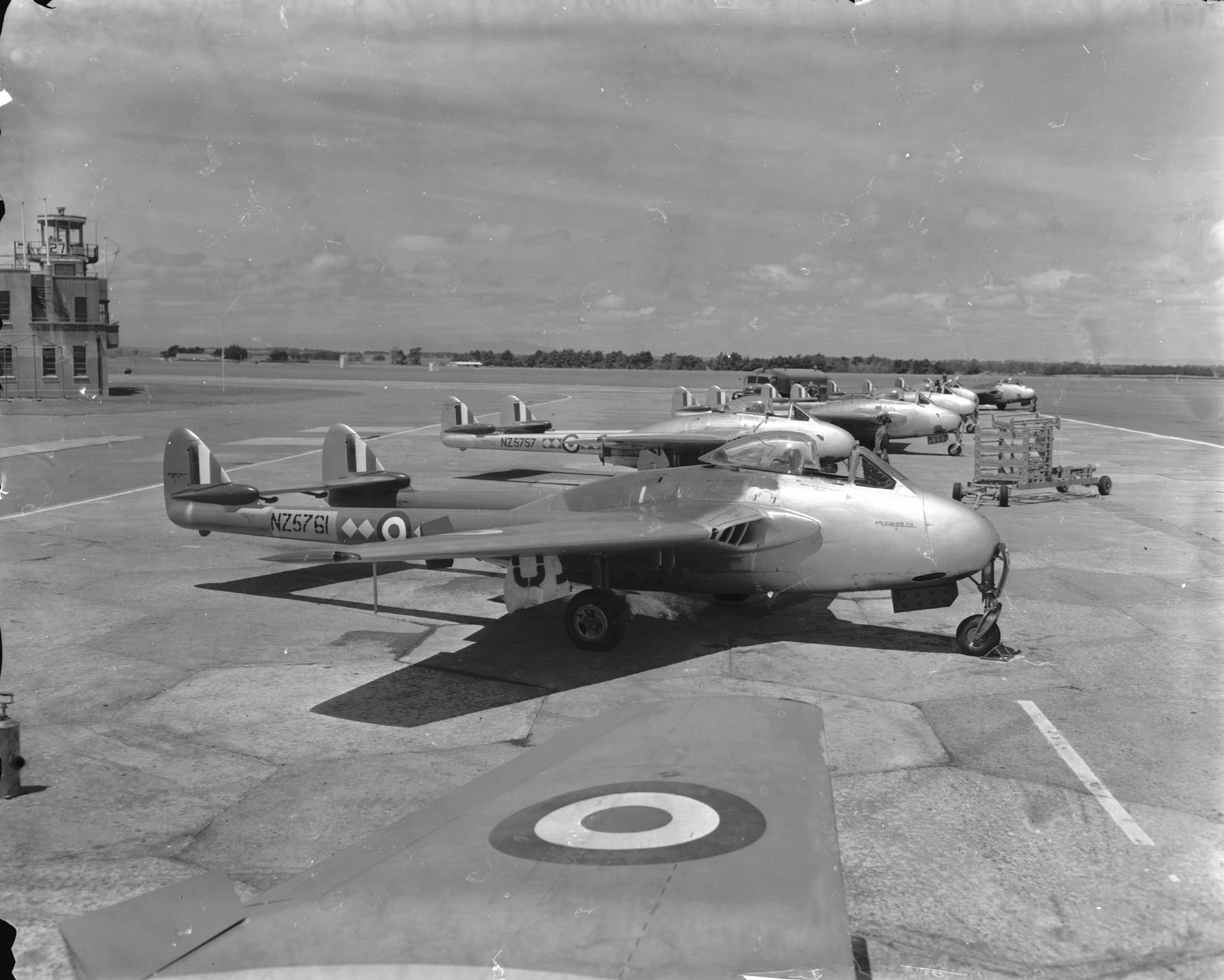 NZ5757
An ex-RAF FB.5 model, NZ5757 served with No. 75 Squadron, the Fighter Operational Conversion Unit, and the Jet Conversion Unit at Ohakea between 1953 and 1960. It then went into temporary storage and was converted to an instructional airframe for training ground engineers in April 1964. NZ5757 was given to the Central Institute of Technology at Petone in 1965 (but not delivered until 1972), before being given back to the RNZAF in 1978 and shipped to the Museum at Wigram.