We're delighted to share that our Museum Trust Board has signed an agreement, loaning ex-RAF Canberra B(I)8 WT346 to NZ Warbirds Association Inc. at Ardmore for restoration to static display. Once restored the intention is for it to be officially transferred to NZ Warbirds.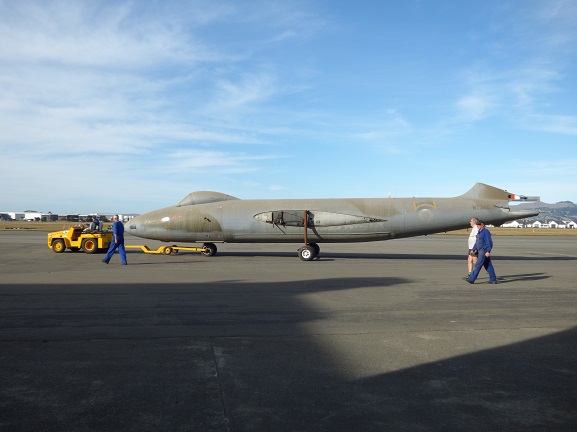 WT346 was purchased by the RNZAF Museum Trust Board in 1993 from a UK scrap dealer and shipped to New Zealand, effectively saving the aircraft from certain destruction. The intention at the time was to use the nose, or possibly the complete airframe, in some way to represent the B(1)12 variant, as flown by the RNZAF.
A change of direction and review of policy around prioritising projects with RNZAF provenance in line with the Museum's mission, coupled with the fact that a complete example of a Canberra was already on display at the Museum, meant that any effort on the ex-RAF Canberra was a low priority.
The recent closure of our offsite large object store resulted in a significant amount of material being relocated to Wigram. This, combined with the growth of the collection, has increased pressure on available storage space. In recent years, finding an appropriate new home for the Canberra has become a pressing concern for our Board. The agreement with Warbirds is the culmination of a significant amount of effort behind the scenes, and we are delighted that it will finally be making its way north for a new lease of life with the team at Ardmore.
We are doing what we can to help NZ Warbirds get the aircraft to Auckland, including making a considerable contribution in the form of personnel and logistical support, but they still need support to make the project happen. If you are interested in finding out how you can help, please contact NZ Warbirds directly, and follow them on Facebook for updates.
English Electric Canberra B(I)8 WT346
Manufactured at Preston in 1955/56, this aircraft served with No. 88, 14, 3 and 16 Squadrons, Royal Air Force (RAF).
WT346 was allotted as instructional airframe 8197M on 22 May 1972 and struck off charge on 8 August 1972. It was moved to the museum at RAF Colerne on 17 June 1972 and to the Cosford Aerospace Museum in April 1976. The aircraft was obtained by a London scrap dealer, then subsequently acquired by the RNZAF Museum Trust Board and shipped to New Zealand in 1994.
The B(I).Mk.8 is externally very similar to the B(I).Mk.12 model operated by the RNZAF between 1959 and 1970.