As we remember the Battle of Britain, 80 years on, it is also worth looking back at how several generations have grown up with its portrayal on the big screen. In 1969, the United Artists' blockbuster film 'Battle of Britain' was released in New Zealand, generating one of the largest paper objects in our collection.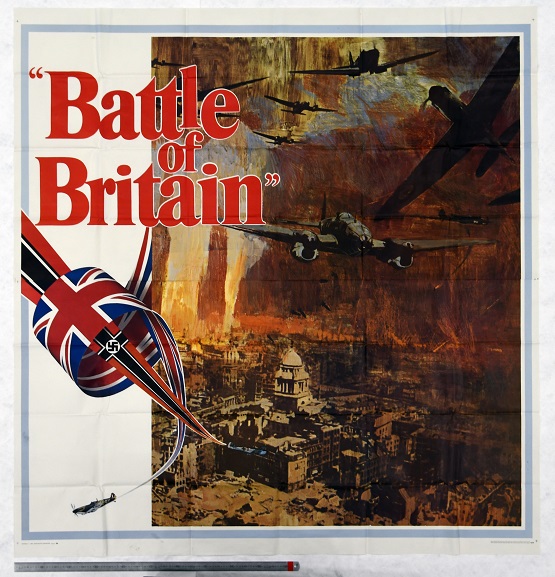 Making a war film
Directed by Guy Hamilton, the Battle of Britain had an all-star cast, featuring established names like Laurence Olivier and Ralph Richardson, as well as more up-and-coming stars like Michael Caine and Ian McShane. New Zealand's own Sir Keith Park, hero of RAF Fighter Command's No. 11 Group was played by Trevor Howard, who contacted Park for advice on how to portray him.
It was the assemblage of aircraft used in the film that were the real stars for many viewers, with spectacular battle sequences and special effects. Original Spitfires and Hurricanes jousted on celluloid with Spanish CASA-built Heinkel III bombers and Messerschmitt 'Buchon' 109s (ironically fitted with Merlin engines). Other types, such as Stukas, were represented by models and other special effects were employed to simulate bombing on the ground.
The making of the film was also influenced by the fact that the two RAF factions involved in the Battle, each advocating different strategies for meeting the enemy, were both involved in an advisory capacity. Hugh Dowding and Keith Park represented the No. 11 Group perspective of dispatching individual squadrons to intercept raids, while William Sholto Douglas and fighter ace Douglas Bader represented the ideas of Trafford Leigh-Mallory (who had died in 1944) and the 'Big Wing' massed fighter strategy of No. 12 Group. Suffice to say, they did not get on, and were generally never on set together. Other advisors included German fighter ace Adolf Galland and British aces 'Ginger' Lacey and Robert Stanford-Tuck, who had all fought in the Battle.
Filmed in the UK, France and Spain, the film also had a rousing soundtrack by Ron Goodwin. He was brought in late when the original score by Sir William Walton was rejected by the production team. Parts of Walton's more classical score were retained for the central ten-minute battle sequence depicting "Adler Tag" (Eagle Day).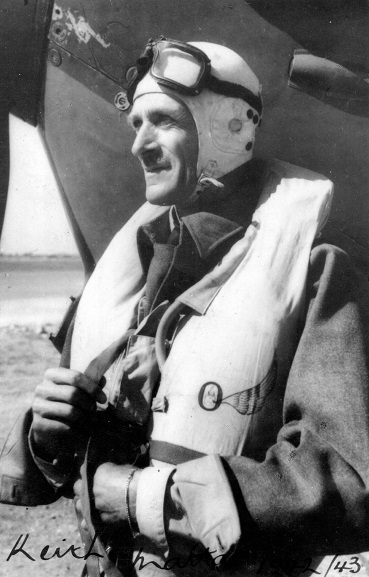 The Battle on New Zealand Screens
'Battle of Britain' was officially released on 15 September 1969, with the London premiere attended by Her Majesty Queen Elizabeth II and Battle of Britain veterans, as well as members of the film's large international cast. In New Zealand, premieres were held on 20 October 1969 in aid of charities in Auckland, Wellington, Christchurch, and later in Dunedin.
We're lucky to hold original publicity materials for this film in our collection. These were collected for the Christchurch premiere, and include this giant 2×2 metre film poster, assembled from two separate sheet pieces.
It's a totally ephemeral object – had it been used for its intended purpose, it would not have survived, as these posters were pasted to billboards, and then pasted over again with the next latest production to hit theatres!