On 1 May 2021, the Research Team temporarily suspended its free enquiry service until the end of the year. We think it is important to explain why we took this step and what we will be doing during this period.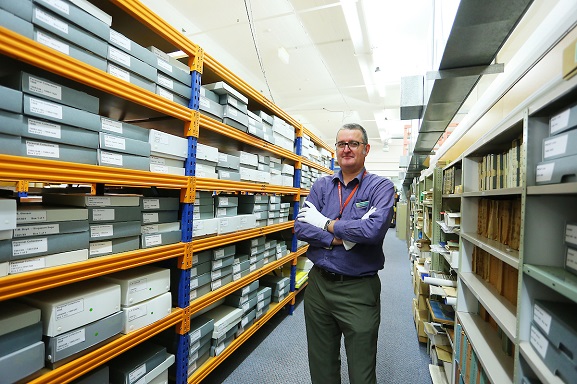 Our Enquiry Service
Answering research enquiries is an important role for any museum, library, gallery or archive, and is a major part of what our Research Team does at the Air Force Museum of New Zealand. We try to answer questions as promptly and fully as possible and the services we provide are generally free.
Enquiries are, however, only a part of what we do and providing these services comes at a cost in time. We are a very small team of three, and manage a very large archive of both paper-bases and photographic material. As a national museum, we have a commitment to provide the highest standards of curatorial care and storage for our collections. This in itself can be very time-consuming, therefore the balance between research enquiries and collections care can be a fine one.
Finding the Information: Why we catalogue
In general, material needs to be catalogued – fully described in a collections management system – to be accessed by staff or researchers. Fully-catalogued records allows us to identify quickly if an item is going to be useful. If it has not been catalogued, that identification of relevance is often not possible.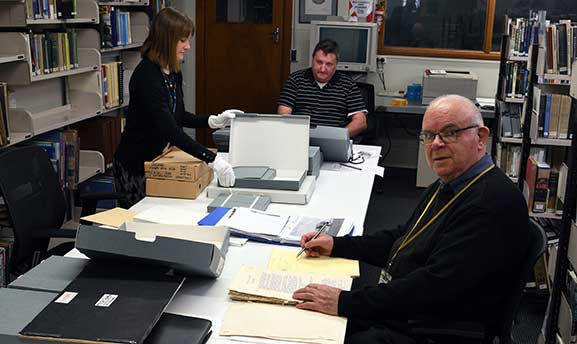 How we catalogue and process material
The first thing that happens is that material is accessioned and given an original number and a basic record created on our Vernon collections management database. Archival material is sometimes sorted prior to this and put into order (if it does not already have a structure or 'original order').
Next, a member of the Research Team completes numerous fields on the database recording a lot of detailed information about the item including who/when it was created, dimensions and materials, condition and other descriptive information. It is then indexed, using subject lists which will help us to retrieve its information, like events, places, subjects, objects or people. This enables us to decide if it might be of use to an enquiry or researcher. This process can also involve some research by the curator to establish the significance of the item and possible relationships to other material in the collection. For example, did the pilot who created the log book fly one of our aircraft in the collection? If so, then that detail is recorded.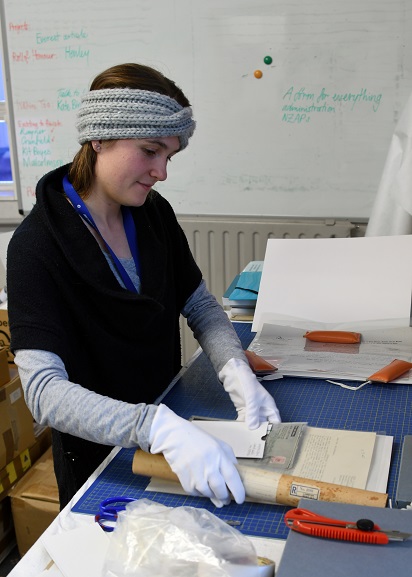 Once a collection is fully catalogued, it is then carefully packed for storage. This might involve placing photographs in polyester sleeves and then folders, or making bespoke enclosures for bound items like log books. Harmful materials, such as rusting staples etc are removed. The items are then stored in labelled boxes and the precise location recorded on the database so the item can be retrieved easily. Sometimes, oddly shaped or large format items require specialised custom storage solutions that the team make themselves.
In many cases, the items are also digitised (scanned or photographed). This is certailny the case with photographs, which are scanned and uploaded to our online image collection.
This process can take time and is very labour intensive. Larger collections can take days, weeks, or even months to complete.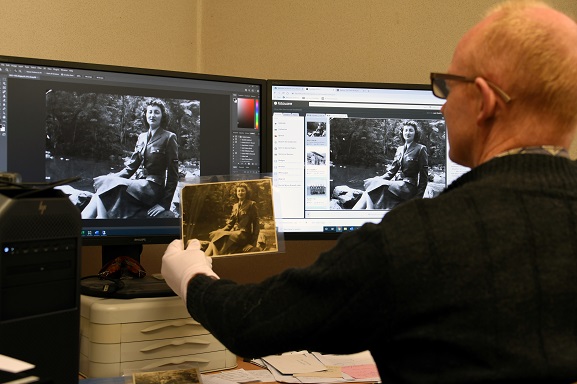 Benefits in the Future
By taking the time and care needed to process the archival material we are investing in the future of the Museum and its collections and ensuring even better services and accessibility for researchers and enquirers in the future. It will give us greater visibility over what is in our collection, which will also help when it comes to identifying items for future exhibitions.
We look forward to being able to help answer your questions with improved capability in January 2022. In the meantime, we'll keep you updated on our progress; subscribe to our newsletter and follow us on Facebook to stay informed and receive more stories about what we'll be working on over the coming months.