Humour is a subject not often raised in the area of military history. Yet some of the strongest traditions and cultural legacies of military service – including those of our own Air Force – are full of inside jokes in line books, silly songs, famous (and infamous) fictional cartoon characters and countless visual gags.
Humour taken seriously
The importance of humour in understanding wartime experience and military culture was addressed at the Reflections on the commemoration of World War One conference held in Christchurch in 2018.
Canadian military historian Dr Tim Cook presented the keynote paper "Entrenched Culture: Soldiers' Culture in the Aftermath of the First World War". Cook argued that humour is one of the aspects of soldier culture by which we can learn how soldiers coped and endured the Great War. He described the use of 'humour as a shield' in a culture of survival created by World War One soldiers, who were 'active participants shaping their own experience.' [1]
By Cook's argument, the cultural products created by servicemen and women, like humour, newspapers, cartoons, graffiti, souvenirs and music, are therefore key to understanding what they thought about their wartime service, e.g. soldiers parodying existing songs, adding their own lyrics and interpretation.
Archives of the absurd
Hearing this paper made me think about the heritage of humour, particularly in the wartime RNZAF. Humour frequently appears in collections belonging to New Zealand airmen – 356 times to be exact! (Or rather, this is the number of records in our collection catalogued under "Humour", "Cartoons", "Caricature", "Satire", and other such related terms). And that doesn't even include the 'advice' columns and cartoons found in the RNZAF's wartime magazine, Contact, which the Air Force Museum's Café is named after – read more.
The archival examples in this blog illustrate the importance of humour to airmen's past experiences, and this is reflected by the fact they (or their families) chose to preserve the items as artefacts of their service careers.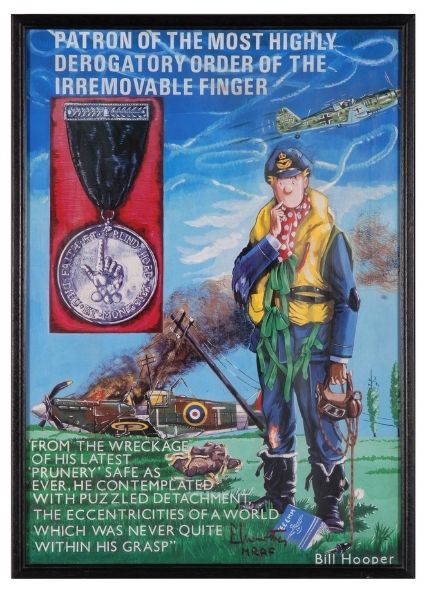 Pilot Officer Percy Prune first appeared in 1941, drawn by Royal Air Force (RAF) airman Bill Hooper in his 'doodle diary' to highlight pilot mistakes he 'observed or heard about from day to day' at RAF Hornchurch [2]. Perhaps the most famous of cartoon pilots, Prune was swiftly followed by American counterpart Dilbert, USN (United States Navy) who also got everything wrong in order for the manual to explain correct procedure.
This creative ploy was commonly used in an official capacity in order to disseminate important health and safety messages, such as this US War Department booklet promoting military efforts to combat malaria.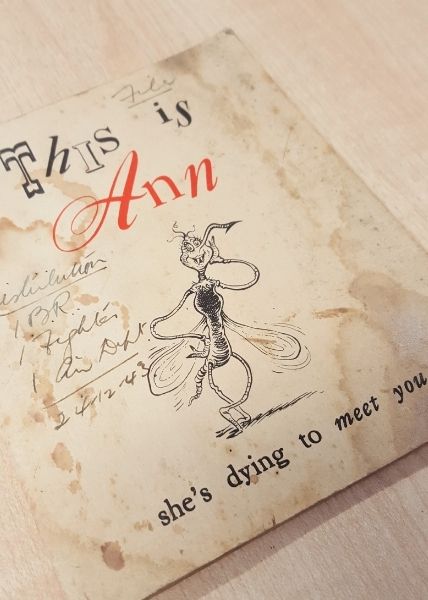 Pilot Officer Prune became a familiar figure in New Zealand too. This monochrome print by Bill "Raff" Hooper depicts four New Zealand Battle of Britain pilots from RAF Hornchurch squadrons, Colin Gray, Al Deere, Hawkeye Wells and John MacKenzie, surrounding a German pilot, with Prune commenting he still destroyed more aircraft than the lot of them (though not German aircraft, and not due to expertise)!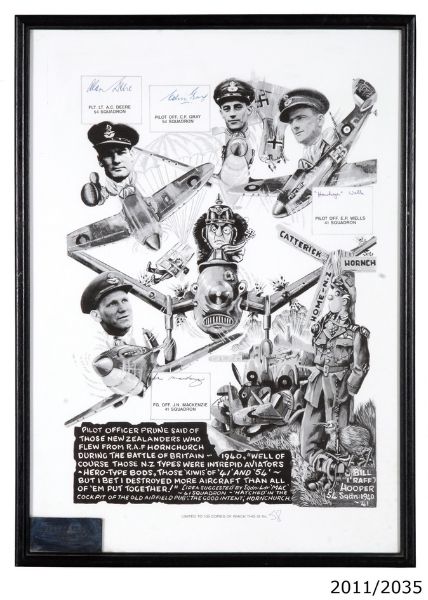 Kiwi airmen were also quick to make good fun of their peers, and created many caricatures, kept as souvenirs of wartime service. The following examples feature New Zealand ground crew serving in World War Two, as well as cartoon nose art from this period, which some aircrew painted on their aircraft.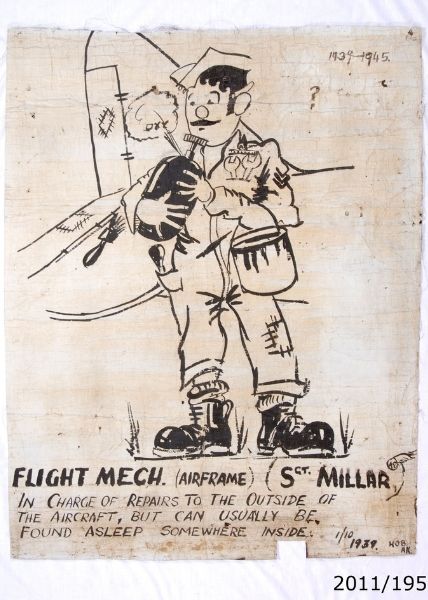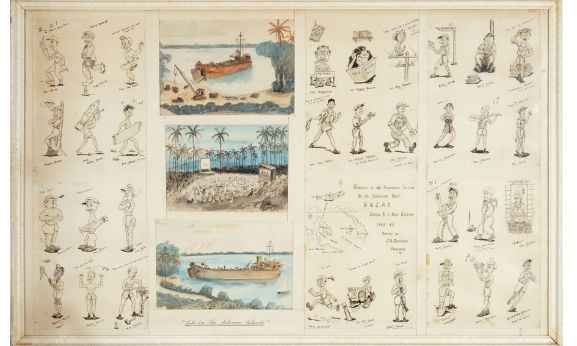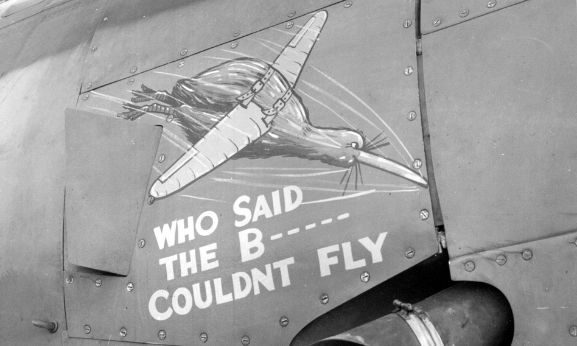 Making their own fun was part of Air Force life for airmen serving in the RNZAF and RAF. The following items were produced by airmen for events and publications entertaining their own communities – whether on base or within the local civilian area.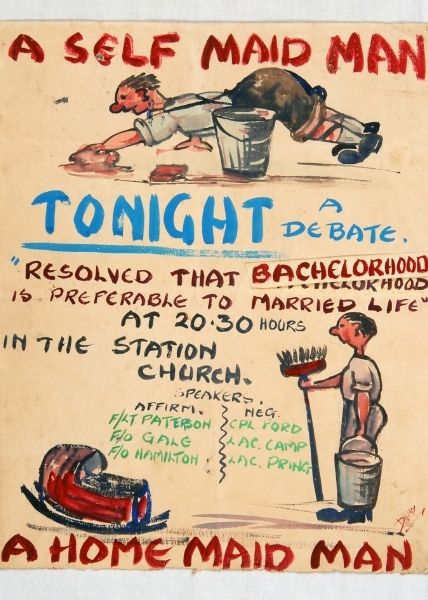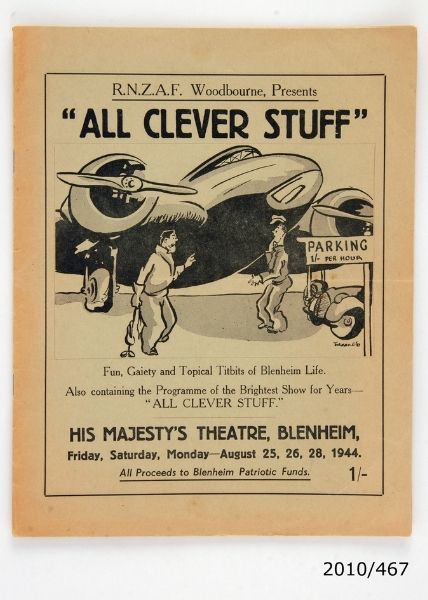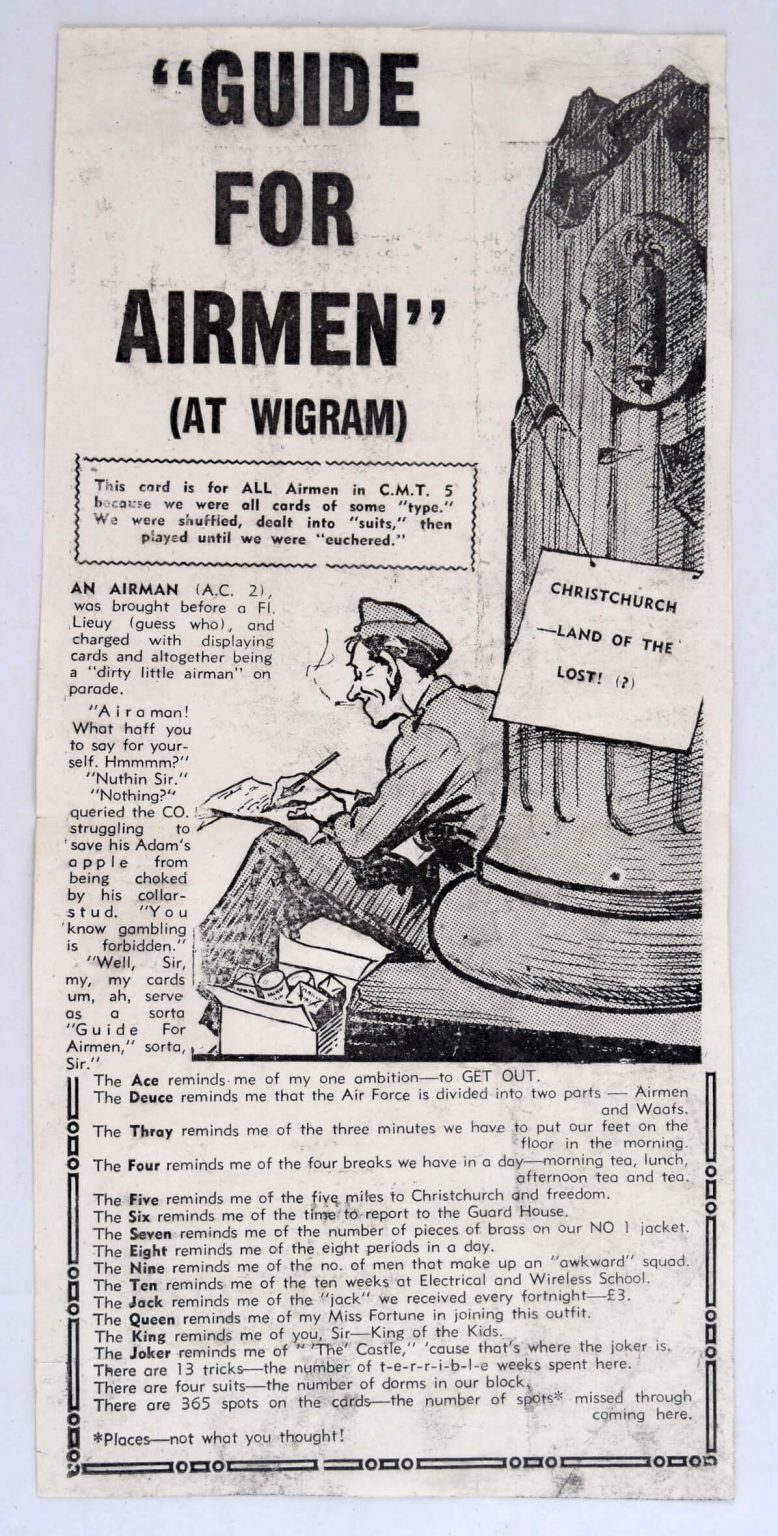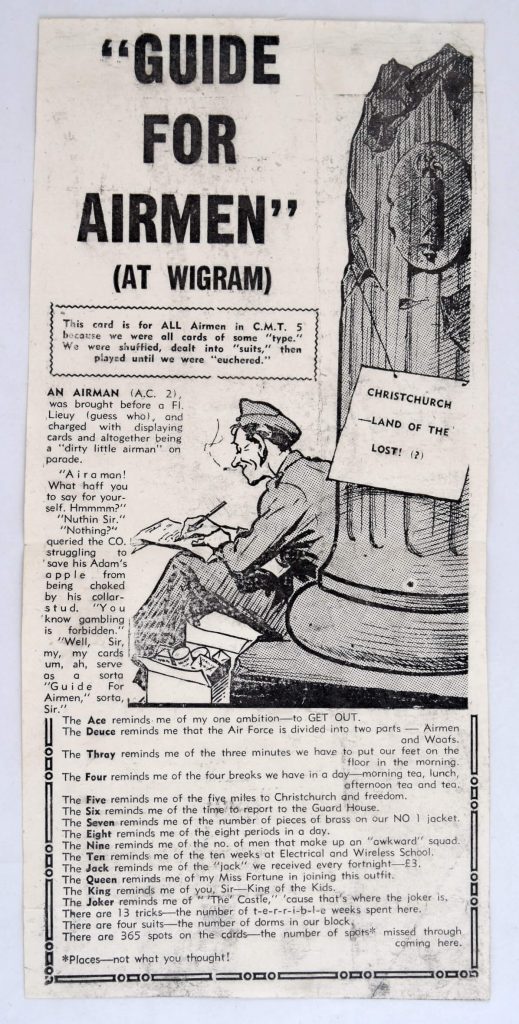 Other examples of performance humour, taking the form of wartime revues, pantomime, and concert parties, helped lifte spirits in a time of adversity, even in prisoner of war (POW)camp settings – as seen in the following photographs from our collection.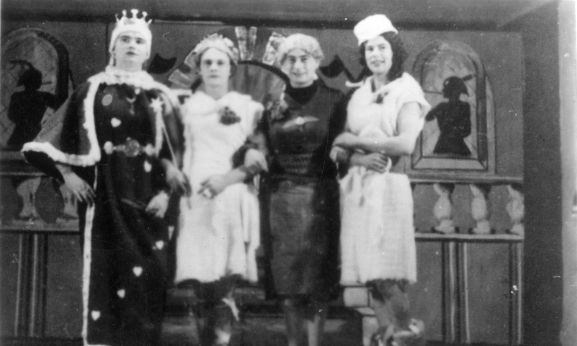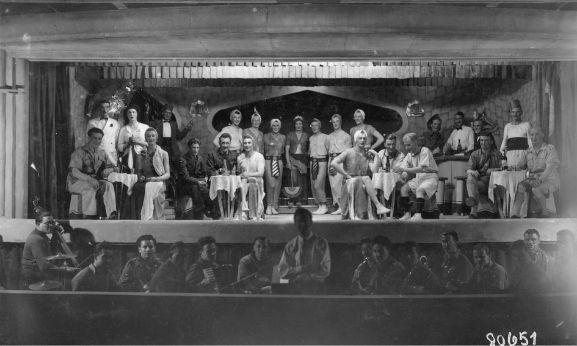 This last pen and ink illustration was hand-drawn on an envelope by schoolboy Jeffrey Tims in 1941. Florence Wilby was a WAAF in the parachute section at Wigram. She met Jeffrey while demonstrating parachute packing at Ballantynes in Timaru. Interested in the work she was doing, Jeffrey asked to write to Florence and they corresponded from 1941-3. Jeffrey joined the Air Training Corps (ATC) but was clearly also a talented comic, and knew a sense of humour was appreciated by his WAAF penfriend.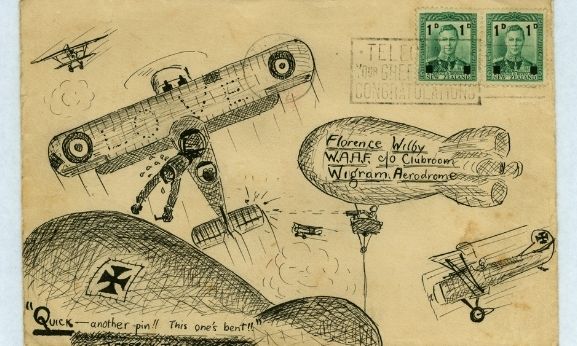 'They laugh at work and at play; they laugh in danger and at ease. Often they laugh at others but, more than all, they laugh at themselves.' [3]
S. Evelyn Thomas in RAF Parade: An Anthology of RAF Humour – October 1944
References
[1] Tim Cook, "Entrenched Culture: Soldiers' Culture in the Aftermath of the First World War", paper presented at Reflections on the commemoration of World War One, Tūranga (Central Library) Christchurch, 22-23 November 2018.
[2] Brig. Gen. Brian S. Gunderson, USAF (Ret.), "Pilot Officer Prune, Royal Air Force: "Dutiful but Dumb"", in Air Power History Vol. 37, No. 4 (Winter 1990), pp.23-29
[3] S. Evelyn Thomas (ed.) RAF Parade: An Anthology of RAF Humour, John England Publications Ltd. (St Albans, Hertfordshire) 1944, p.3