In his book The Flyer: British Culture and the Royal Air Force 1939-1945, Martin Francis observes that while airmen often suppressed feelings of fear and grief experienced during the war, 'letters, diaries, and memoirs composed by the men of the RAF often virtually vibrate with emotion, and can be startlingly frank about the flyer's longing for love.' (Francis, 69)
These examples from our collection relate to the lives and loves of three New Zealanders serving in the RAF and RAF Volunteer Reserve (RAFVR) during World War Two.
'My Wife, I'm awfully drunk…'
For many young couples separated by the war, letter writing became the main form of communication, alongside the short-form telegram. A light-hearted example of one such "love letter" was written by Squadron Leader Wallis George Finlay to his wife Sheila in April 1944. A Pathfinder Force navigator stationed in England, Finlay wrote the letter one night while very drunk and celebrating his recently received 'gong', the Distinguished Flying Cross (DFC):
'My Wife, I'm awfully drunk. But I love you such a lot. The bar has closed so I cannot guzzle any more. Another pint would do me the world of good. … I wanted to come home to you tonight. Very much. I had intended nipping off without asking permission…' – He didn't of course, though he did indeed try his luck asking his Group Captain, who kindly denied the request.
Finlay asks his wife, 'Have you any idea as to how much I love you? I guess you have', and offers thanks for her advice and guidance, noting the support she gives him: 'Please keep guiding me, my sweetheart; I need your guidance more than you realise. You must keep on leading me.'
In signing off, he concludes: 'My letter is an awful jumble … my head spins like a top. I may be tipsy … but with all my heart, all of me, I love you so very much. Sleep – goodnight Honey. Always yours'. (2013/076.56)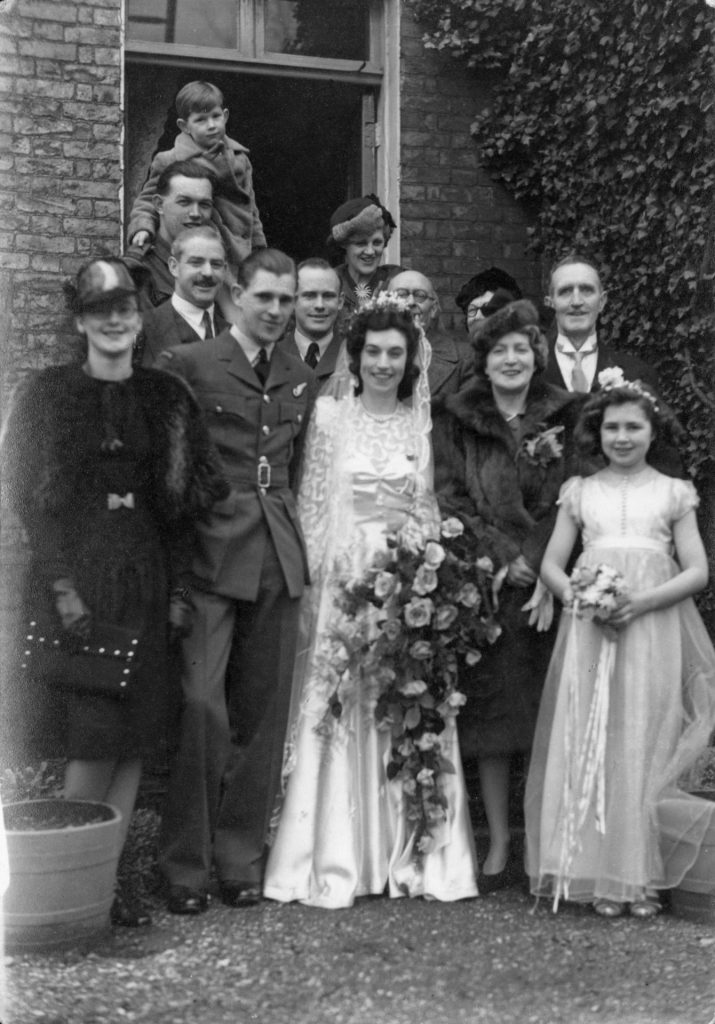 Cut-and-Paste, the Old-Fashioned Way
Wireless telegraphy, developed in the late 1880s and 1890s, allowed for the invention of the telegram, the ancestor of today's quick communication which is so characteristic of our modern world.
The sender visited their nearest telegraph office, composed a message as briefly as possible (charged by the word) and this was conveyed by the electric wire in Morse code to another telegraph office near to the recipient. There, the words were written or typed, cut out, pasted by hand onto a sheet of paper, and hand-delivered to its intended address.
Telegrams were fast, cheap and the most reliable way to communicate. Because of this, they were often used in wartime for official notices informing next-of-kin of those missing in action, taken prisoner, wounded, or killed in action – but not always. While needing to be concise, they were a good way to avoid postal system delays, and so were also used for personalised messages.
These telegrams were sent by Esme Utber to her future husband, Squadron Leader John Herbert Kemnitz, while stationed at RAF Ceylon.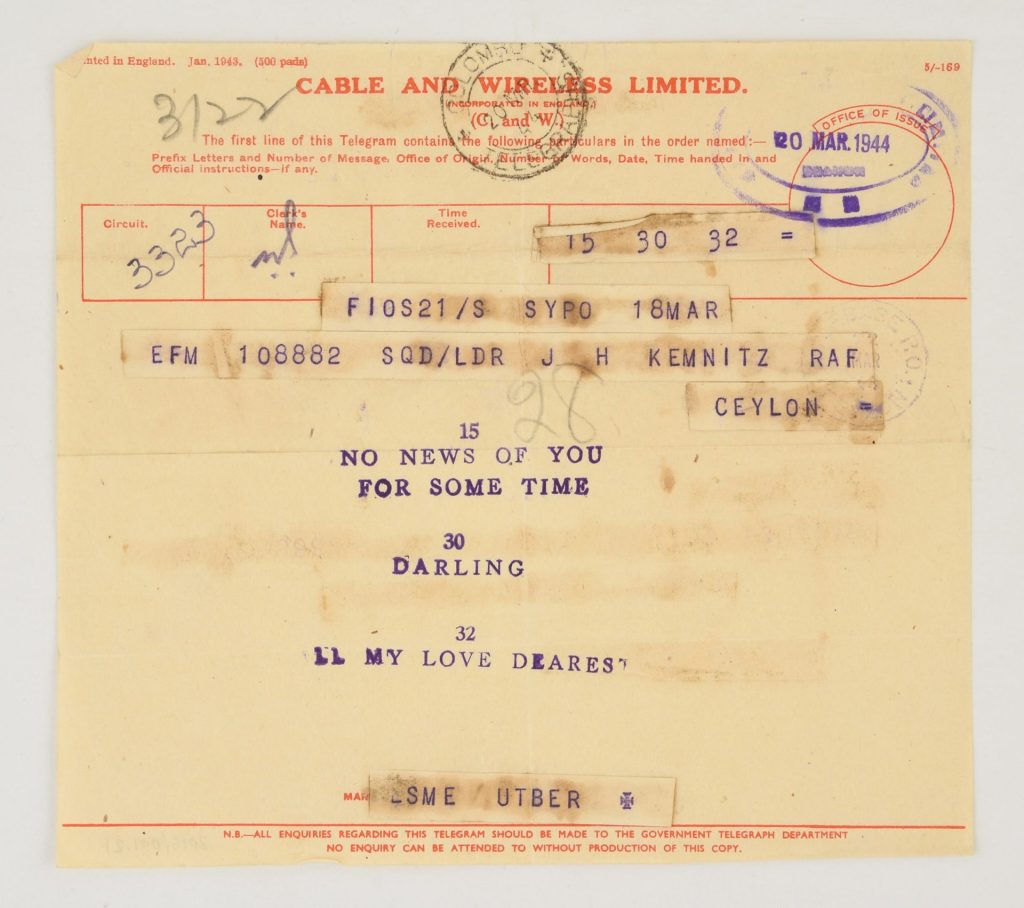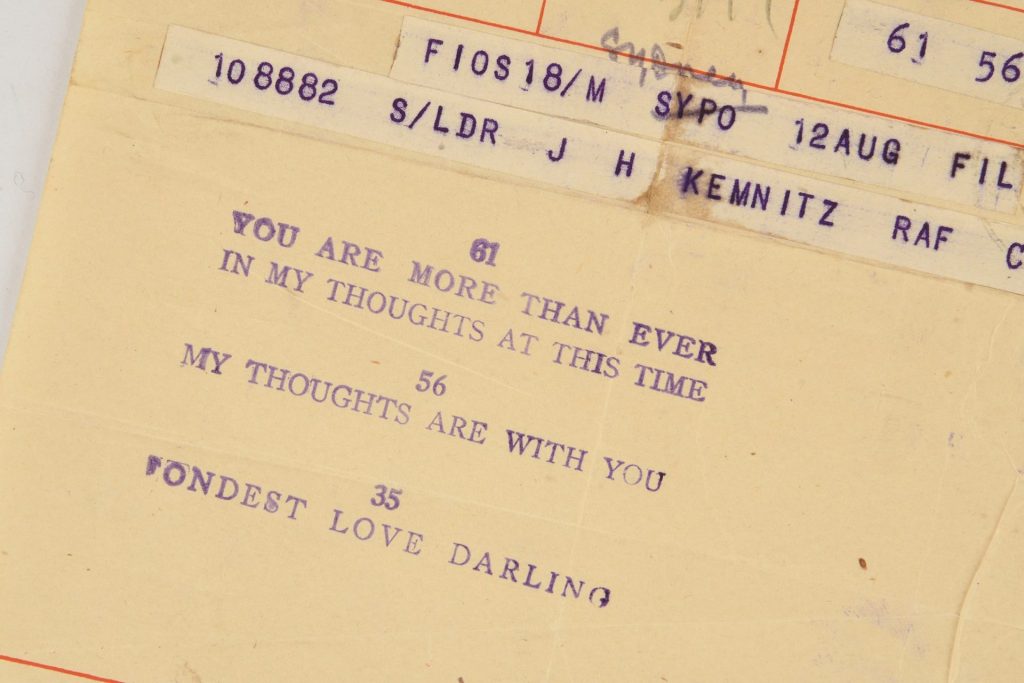 Rhymes of a Fighter Pilot
Poetry was another way in which some airmen expressed their love for those they held dear. And, as Martin Francis points out in The Flyer, many Commonwealth airmen serving in World War Two had been brought up on the poetic works of Keats and Yeats (Francis, 68). So, it is not surprising that some of the more creative among them composed poems in their free time.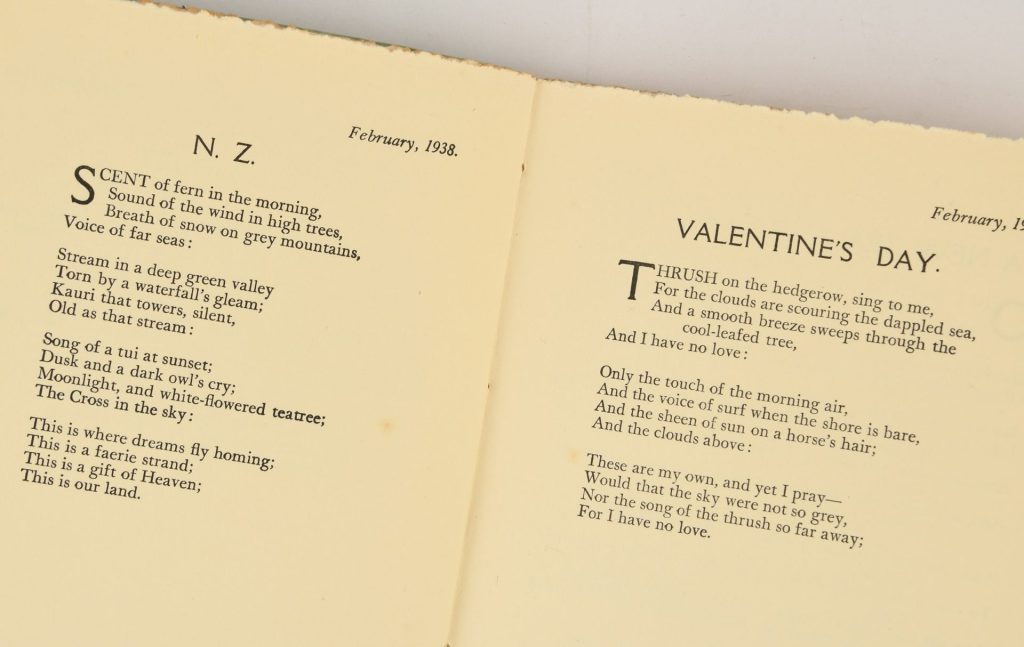 Rhymes of a Fighter Pilot is a privately published collection of romantic poetry and verse by Pilot Officer John Ernest Moodie. He was sadly killed while on ferry flight operations in December 1941, leaving behind his wife Mildred, with whom he was expecting a child. This poem, seemingly written about the pregnancy, is dated November 1941, just one month before Moodie was killed:
'All that you were, I knew, but this is unknown;
All that I am is yours, yet in your womb
Stirs life we know not. It is ours alone,
Or do you also minister, in this innermost room,
To the very spirit of Heaven and sea and land?
Be still, my soul : God dwelleth under this hand.'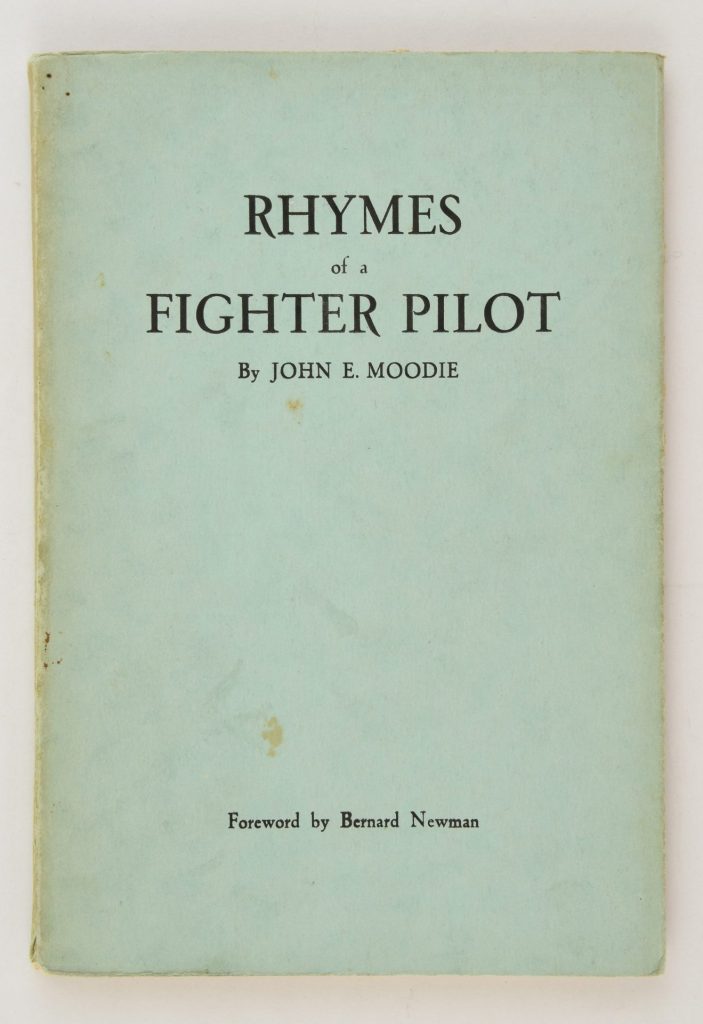 Air Force Museum of New Zealand
Average rating:
0 reviews