With Anzac Day approaching, what better book to restart our Reading Room blog series than For Your Tomorrow by Errol W. Martyn. Louisa Hormann of the Research Team discusses how these reference books assist in researching air force casualties, and their significance as a memorial to those New Zealanders who died while serving with the RNZAF or other air forces.
'When you go home
Tell them of us and say,
For Your Tomorrow
We gave our today.'
This famous epitaph, attributed to English poet John Maxwell Edmonds, is the namesake of a trilogy of reference works authored by New Zealand aviation historian, Errol W. Martyn, QSM. The three volumes are named and published as follows:
For Your Tomorrow – Volume One: Fates 1915-1942 (1998)
For Your Tomorrow – Volume Two: Fates 1943-1998 (1999)
For Your Tomorrow – Volume Three: Biographies & Appendices (2008)
Altogether, Martyn's project to research and write these books spanned 20 years. As he states in the preface to Volume 1, the result is intended as 'a starting point from which to research or study further any one individual or group of casualties. It is also hoped that it will serve as an enduring memorial to those who sacrificed their lives in times of conflict or while preserving the peace.'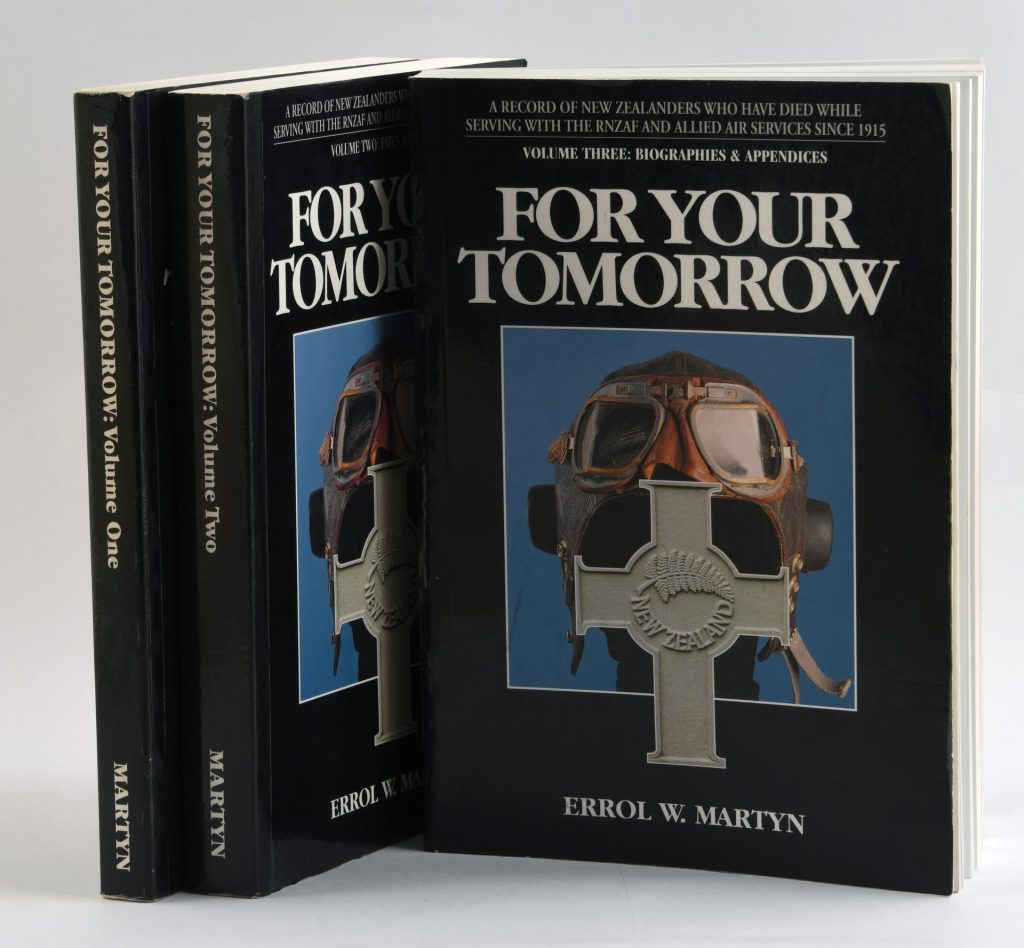 For Your Tomorrow contains the names (from 1915-1998) that are displayed on the Roll of Honour at the Air Force Museum of New Zealand: a record of the names of all New Zealanders who have died while in service with the Royal New Zealand Air Force (RNZAF) or other air forces since 1915. They represent not only those who have been killed in action, but also those who have died in accidents, or of illness or disease, while in uniform.
There are over 4,600 names on the Roll of Honour. Veterans or personnel who have died subsequent to their RNZAF service are not recorded here. But it does include over 150 New Zealanders who died while serving with the Fleet Air Arm, or as civilians serving with quasi-military organisations such as the Air Transport Auxiliary.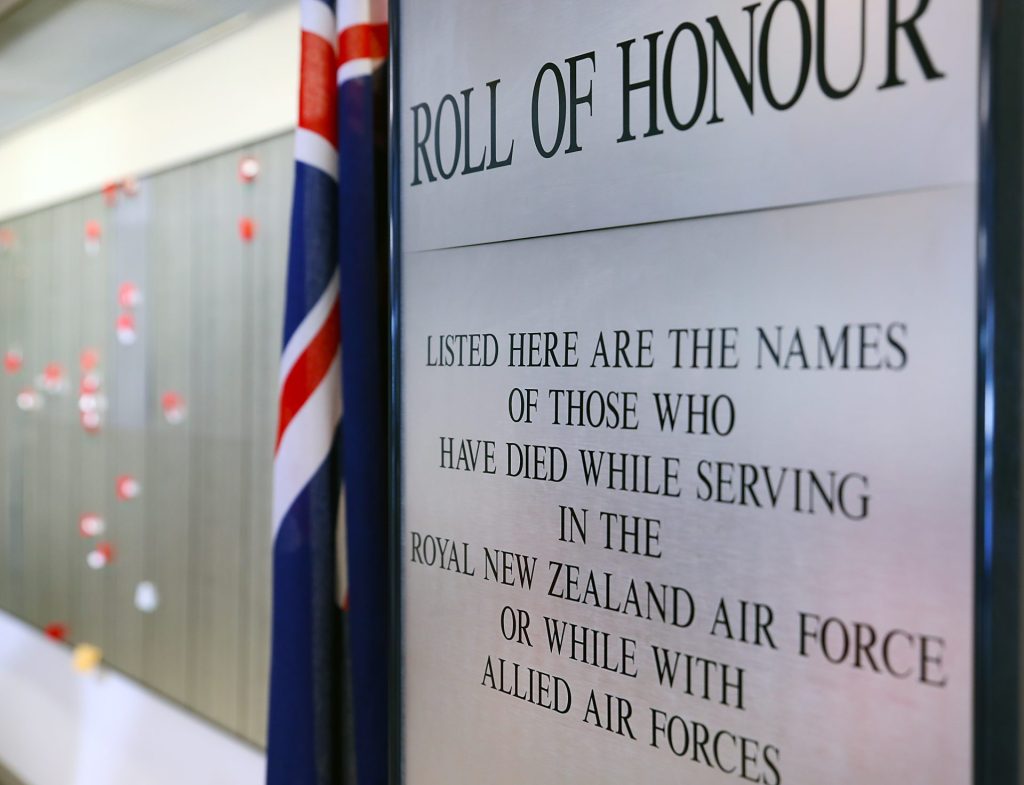 Volumes 1 and 2 individually describe each and every casualty incident for every individual person listed on the Roll from 1915-1998, complete with age, date, location, squadron, and operational details. Volume 3 features biographies for each of these individuals, containing information about their pre-military lives, postings and commissions from service records, names of next-of-kin, as well as grave and memorial locations.
I personally find the books' glossaries most helpful for interpreting military service records; specifically, RNZAF and Royal Air Force (RAF), but they are also useful for other services, as the glossaries include references to various military units, not just air force ones. Pro tip – I prefer the Volume 3 glossary, as it refers to the service of all men and women in Volumes 1 and 2, and so is the most comprehensive of the three. The shipping passenger lists are also very useful.
While the books' author does not claim absolute definitiveness, the volumes are meticulously researched and thorough to the utmost degree possible. As such, they are essential for use by researchers and museum staff alike, as well as serving RNZAF personnel.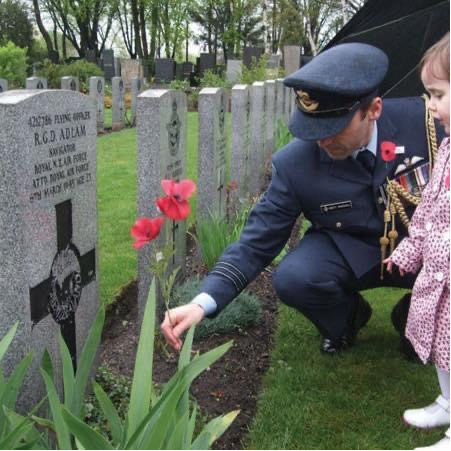 For Your Tomorrow was essential reading for our Museum Director Brett Marshall, when he was posted to the United Kingdom as New Zealand's Air Advisor to the UK, 2005-2009. Although the role was very much focused on representing RNZAF interests in the UK and maintaining our strong relationship with the RAF, there was also a significant representative and ceremonial part to the role:
"I attended Commonwealth War Grave events in Europe and ANZAC Day services in London, Rome and Prague, laying poppies at the graves of numerous New Zealanders buried in Commonwealth War Graves Cemeteries throughout Europe. Often during my time in the UK, there would be queries about certain New Zealand airman who were buried in one of the Commonwealth War Grave Cemeteries or remembered on one of the many memorials throughout the UK and Europe, noting many had no known grave as they never returned from their mission and their body was never found.
One amazing resource that was in my office, was a three-volume copy of For Your Tomorrow by Errol Martyn. The previous Air Advisor highlighted the incredible value of this work. It contains the name of every New Zealander who has died whilst serving with the RNZAF or other Commonwealth or Allied Air Forces. It contains not just their name but information about the operation they were on when they were killed as well as information about where they were born and grew up, their parents, where they went to school and what profession they were in prior to going to war in addition to their Service Career. It meant that I could not only answer the regular queries that came into my office, but whenever I attended a ceremony and laid a poppy at a New Zealanders grave, I knew a bit about them and where they came from.
For Your Tomorrow is a fantastic resource and one that, as Director of the Air Force Museum, I have sitting on the bookshelf in my office. Through it we can learn a little bit about the lives behind the 4,600 plus names on our Roll of Honour."
Brett Marshall, Director, Air Force Museum of New Zealand
Air Force Museum of New Zealand
Average rating:
0 reviews