Having been a proud Christchurch local for all of my life, I have always associated the Air Force Museum of New Zealand with children's birthdays, a rainy weekend and more recently a place for late night functions. However, during the past three months I had the opportunity to work with the collections team and have discovered that there is so much more to the Museum than what is on public display.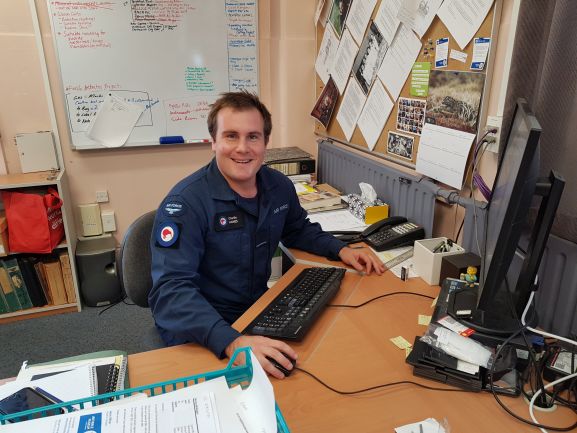 The collections team rarely work in public sight, instead working in the old stores buildings, behind the hangars of the former Base Wigram. The role of the collections team is varied, but fundamentally they ensure that all of the items that the Museum house are catalogued and preserved, providing an accurate record of RNZAF history for the public to access. The collection is immense – there are tens of thousands of items that are housed with more being donated on a daily basis; members of the public, ex-servicemen and women, disbanded squadrons and current RNZAF units donate items regularly. It is an understatement to say that these items are varied; in my short tenure here I have seen a variety of photographs, historical clothing, a World War Two– era medical kit, aircraft wreckage and shrapnel donated to the Museum. This snapshot doesn't include the items that are already catalogued – World War Two rations, intelligence maps, avionics equipment, camp equipment, flight log books and cigarette cases barely scratch the surface in describing the collection. As a complete outsider to this environment, what took me off-guard was the sheer number of items that the Museum houses; the rate at which the collection is growing, requires constant cataloguing and conservation work by staff and volunteers here.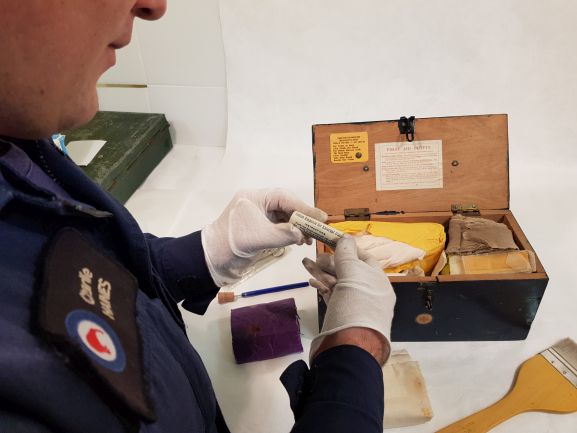 The attention to detail and care taken with every item is significant. Each item is described, measured, photographed and then packaged in specially-designed materials so as to ensure that it is well protected and preserved. On some occasions additional research is undertaken on a particular item so that accurate records can be accessed at a later date; more often than not there is a story behind it, which is arguably just as significant as the object itself.
I was predominately assisting with the memorabilia project which essentially involves looking through all of the memorabilia that has been donated over the years including plaques, tankards, gifts, aircraft wreckage, aircraft models and aircraft props. I quickly learnt that there are specific techniques required to handle these items – having to wear white cotton gloves was the new norm. One of the most interesting pieces of memorabilia I have come across is the wreckage of a Skyhawk after a successful ejection took place. Parts of the wreckage were recovered after the ejection and presented to the pilot as a memento of the occasion.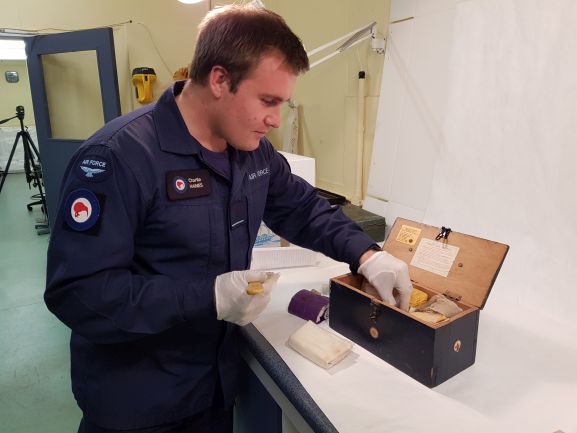 My time at the Air Force Museum also provided an opportunity to undertake some of my own family history. Pilot Officer Cyril Mulcahy was a pilot with 75 (NZ) Squadron RAF, flying Lancaster bombers towards the end of World War Two. He flew a total of nine missions, which mainly included bombings of factories and fuel dumps in Belgium and Germany. It is eerie reading the last entry of 75 (NZ) Squadron's records which described Cyril's last mission:
"Ten aircraft took off as detailed to attack factories engaged in Flying Bomb production at Russelsheim. Nine aircraft bombed their target with aid of markers and good results were reported. A.A. defences with slight but enemy fighter were active on homeward route, one aircraft having an inconclusive combat with a JU88. One aircraft (Captain NZ428793 F/S Mulcahy, C) failed to return".
It only took a matter of minutes for the Collections team to find this detail – utilising their own knowledge of the RNZAF and materials available to them to find a wealth of information on a relative of my own. The Team are always willing to assist members of the public with research they are undertaking.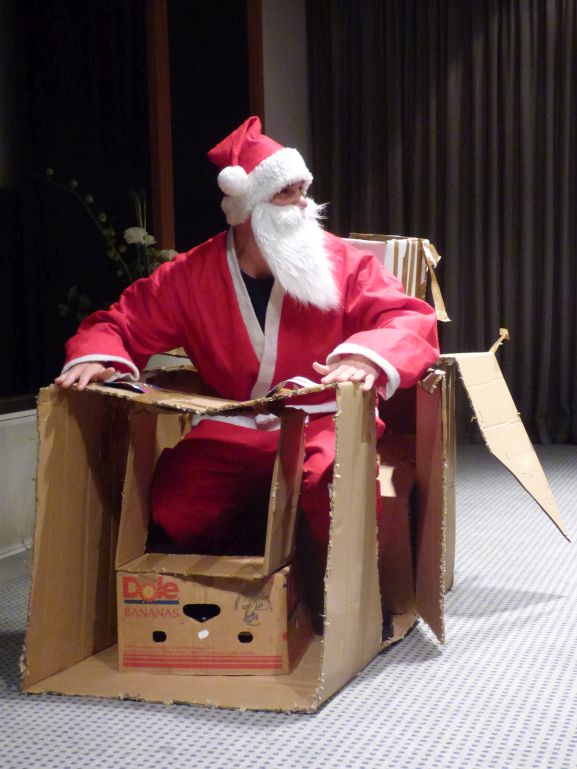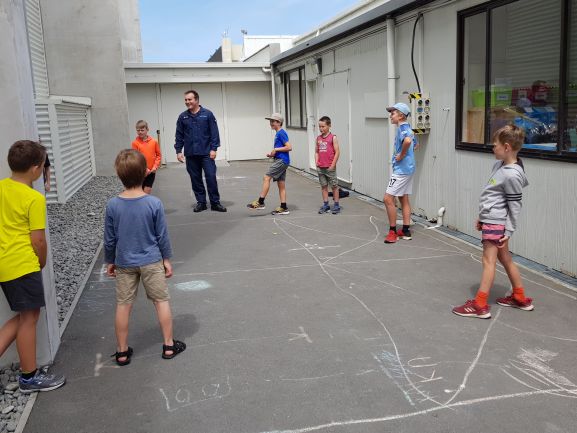 The Air Force Museum is an invaluable resource available to the public – their work is meticulous, detailed, and often time consuming, however, the results are a well catalogued history of the RNZAF preserved for future generations to come. My short tenure at the Museum has been a highly enjoyable experience and I would encourage anyone who has any remote interest in history to explore the Museum when they are next in Christchurch – it is time well spent.