On the afternoon of 23 July 1975, a deep slab avalanche occurred at the head of Ball Pass on Aoraki / Mount Cook. Tonnes of snow and ice slid down the slope face, directly into a group of RNZAF personnel on a training exercise.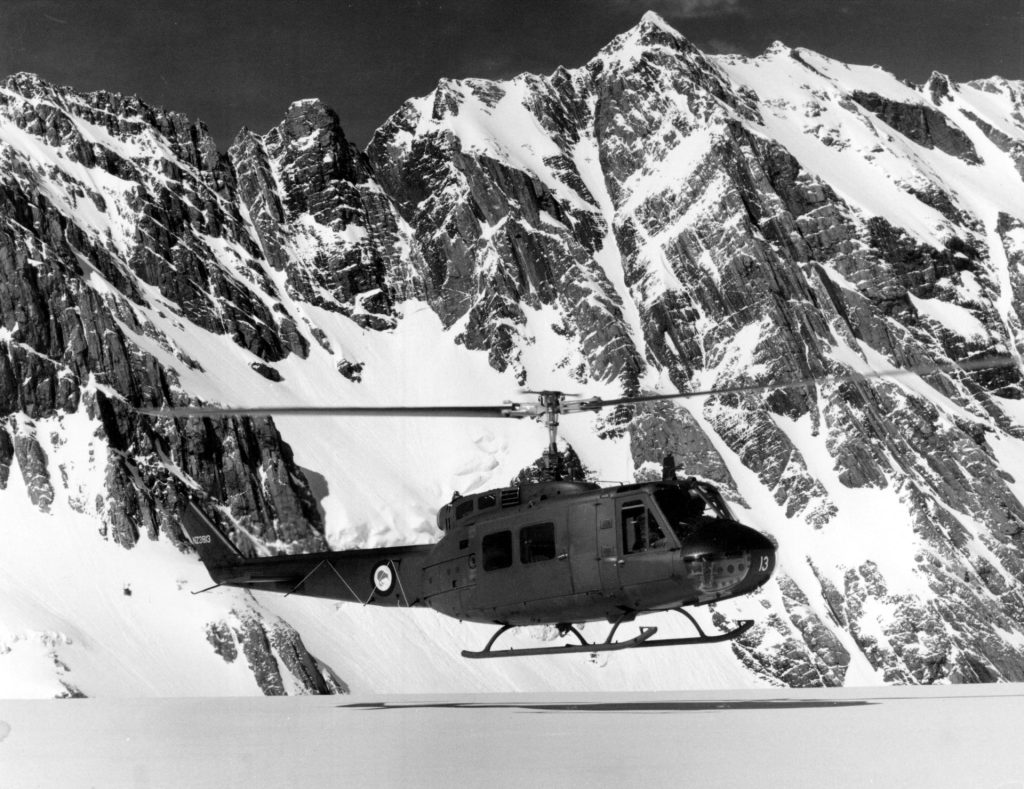 Aircrew from No. 40 Squadron made up most of those taking part in Exercise 'Cook 6', the winter survival course that formed part of their preparation for flying C-130 Hercules aircraft to Antarctica. The exercise was organised and run by the Air Force, with experienced alpine guides serving as instructors.
The morning's activities consisted of basic snowcraft on lower slopes, and in the afternoon, participants were flown to the Ball Pass area where they were to build snow caves, with the intention of staying out overnight. Conditions were perfect for caving and the crew was working in small groups on the east-north-east facing slope at an elevation of about 2,100m when the avalanche hit.
Most were able to 'swim' with the snow, eventually freeing themselves and digging out those they could see. However, Sergeants Geoffrey Boyd and Brian Cottew, and Flight Lieutenants Paul Gazley and Peter Hunnibell had been in the tunnels when the slide began and were buried more deeply. Working together, the rest of the team recovered all but two of the buried men.
Personnel from No. 3 Squadron, who had earlier been supporting other aspects of the exercise, began ferrying park rangers and rescue equipment to the site. They also brought in two New Zealand Army medics from the 2nd/1st Battalion, Royal New Zealand Infantry Regiment, who had been conducting complex First Aid and ice recovery training nearby. The two missing men were located and flying continued into the night, with the last party of rangers brought off the mountain the next morning.
Unfortunately, despite the best efforts of the medics, an Air Force doctor already with the group, and all those involved, none of the four buried men survived.
A funeral for Sergeants Boyd and Cottew and Flight Lieutenant Hunnibell was held at Whenuapai on 28July, and Flight Lieutenant Gazley was farewelled at a service in Blenheim on 26 July. Gazley was an instructor on the course, and in January 1973 had already survived being buried for 11 hours in an avalanche at Noleen Glacier, Aoraki / Mt Cook.
The event had long term impacts, including prompting the formation of the Mountain Safety Council's Snow and Avalanche Committee.
Squadron Leader Bruce Tayler of No. 40 Squadron, later wrote to Flight Lieutenant Gazley's widow, Karen:
"I don't think I have ever seen a group of people work so hard to look for their friends… My squadron do not talk about it much now but I know that they all still think about it and remember."
Air Force Museum of New Zealand
Average rating:
0 reviews