If you're anything like some of the staff here at the Museum, you've probably seen the latest season of 'Stranger Things' on Netflix. If you haven't, you might've been wondering why a song from 1985 that hasn't charted since then is suddenly making a comeback. Unfortunately, I'm not allowed to explain the plot, but I can jump on the hype of running up hills.
In January of 1953, an old army hut measuring 15×8 ft was given to the RNZAF Base Woodbourne Search and Rescue team by a Mr Hebberd of R­­ārangi near Blenheim. The hut was in a state of disrepair, and so the team worked on it for several weekends, eventually rebuilding the hut at the foot of Mt Robertson in the Pukaka Valley. This hut was finished in March of 1953, with space to sleep six, but was eventually dismantled, with the material taken to the Red Hills in the Wairau Valley for re-use.
October of 1953 saw an exploratory trip taken to the Red Hills and the discovery of a high-level plateau, which it was decided would make a good ski field in the winter. The first of 16 working trips was taken in March 1954, including, according to the officer in charge, Flight Lieutenant Brian Hildreth, a tent carried "laboriously" to an elevation of nearly 1,000m. This tent was to provide a permanent working base on-site and weighed over 200lbs — more than 90kg. With Leading Aircraftman Keith Webster, a builder, acting as foreman, the first major building trip saw the hut's piles put in, stringers laid, and the main part of the frame erected.
.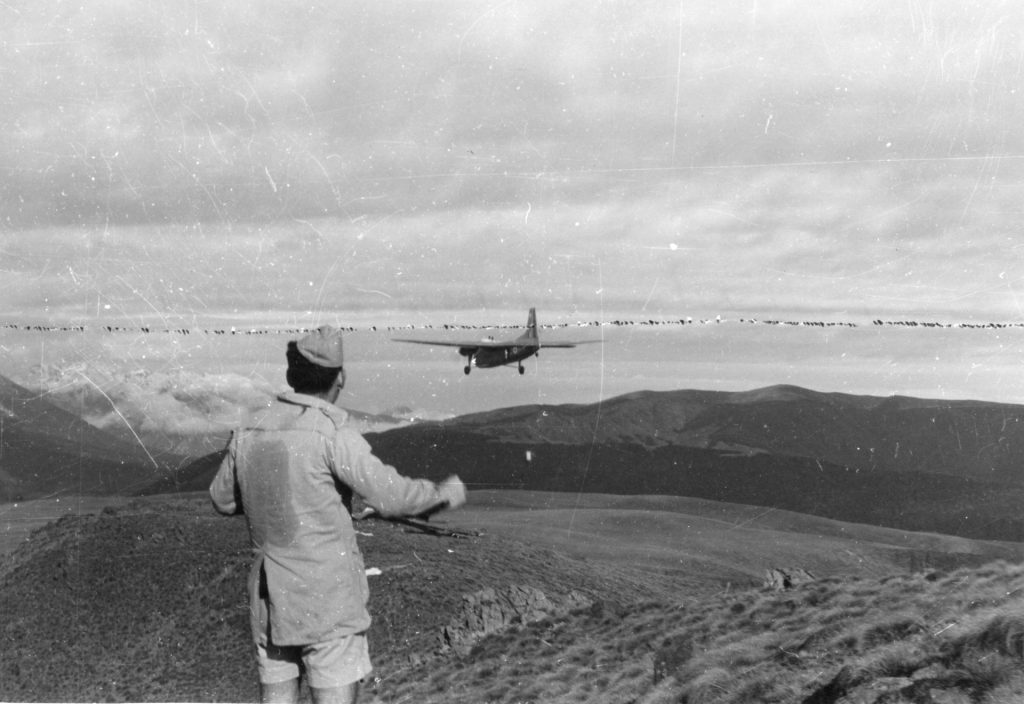 On 3 April 1954, a Bristol Freighter piloted by Flight Lieutenant J. Halton airdropped a large load of building materials, the majority of which were recovered intact from where they had been dropped into a mountain tarn. Some supplies, however, had to be carried to the site, up what Hildreth described as an "almost vertical" 1,200ft — about 360m — slope from the road to the hut. This included sheets of so-called "cursed polite", a type of asbestos cladding that came in 80lb sheets — about 36kg — that had the tendency to break into pieces when it reached the top.
On 16 June 1956, after being worked on by 21 men, the Red Hills hut was finished and officially opened in the middle of "the best snowstorm experienced in the district for many years". At 910m above sea level, the roughly 30m2 hut was intended to be used as a base for skiing, as well as for Woodbourne's Search and Rescue team to train. Over the many trips to the hut for training, several improvements were made, such as linoleum being laid on the floor in 1959. While there was conversation of a second hut being built nearby, this never eventuated.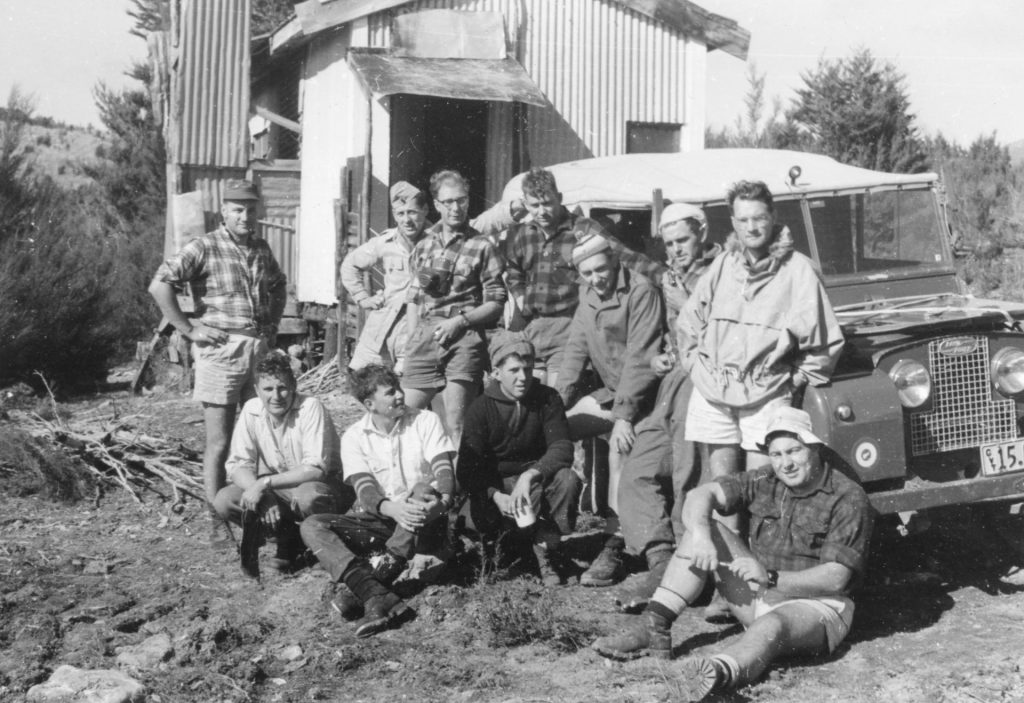 As a training base, the Red Hills hut worked well, with the surrounding area able to be used for many training exercises. This included a mock aeroplane crash in 1962, where Woodbourne's Search and Rescue team took part in a joint exercise with other civilian search and rescue teams. With the hut used as a base, a camp was quickly established for use overnight, before the training exercise ended the next afternoon. This event was described by Flight Lieutenant Hildreth as having provided "valuable pointers" for necessary organisation when multiple search bodies are in effect.
In 1963, however, a second hut was built in the Red Hills, roughly 1,500m above sea level, after the Woodbourne Search and Rescue team was gifted enough material to build an alpine hut by three Blenheim businessmen. Pre-fabrication started on an A-frame style hut, with materials dropped on-site by a Freighter from Whenuapai piloted by Flight Lieutenant Ian Collins. These drops did not go as smoothly as the first drops in 1954, as five parachutes failed to open, and the mountainside was subsequently littered with "smashed wood and mangled iron". Despite this, and uncooperative weather, the hut was completed in just two weekends.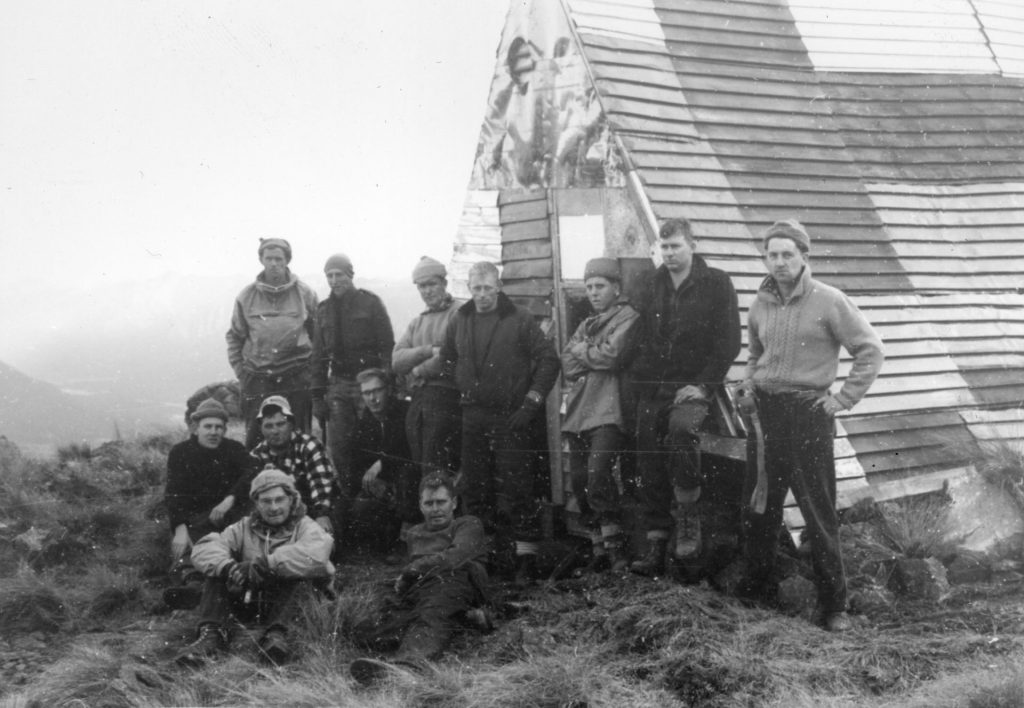 Over time, the hut of 1956 fell into a dilapidated state, and in 2010, was replaced with a new hut for the use of trampers on Department of Conservation trails through the Richmond National Park.