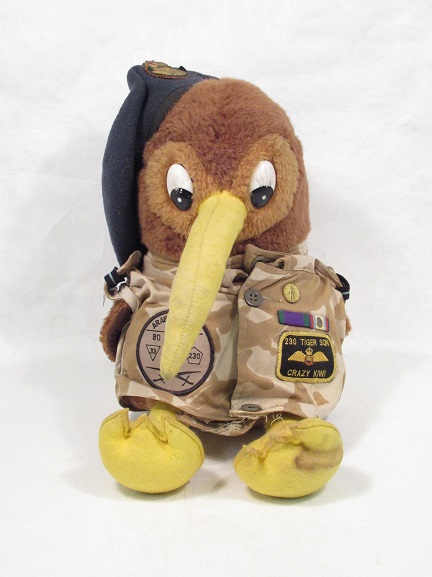 Thanks to the power of social media, a number of ex-RNZAF and RAF personnel came forward to help us fill in the gaps, which means we are now able to record and share the full story. 'Crazy Kiwi' was the mascot for the very successful No. 3 Squadron RNZAF 'Helimeet 90' team, accompanying them to the biennial international helicopter competition at Middle Wallop Army Aviation Centre in England in July 1990. There the team, flying Iroquois NZ3801 (now on display here at the Air Force Museum), competed in a number of events relating to helicopter operations. They won trophies for the team who had travelled the furthest to compete, best preparation for flight by a foreign crew, best precision flying by a foreign crew, 'Concourse D'Elegance' (best turned-out machine), and 'Spirit of the Meet'. That's five out of a possible 15, the highest number awarded to a single country in that year's competition.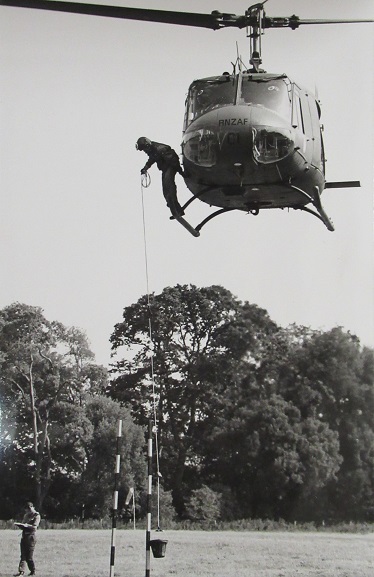 As often happens at events like this, the 3 Squadron team struck up friendships with members of other units, including 230 Squadron RAF. To seal this newfound friendship, the two teams exchanged mascots at the end of the competition. Crazy Kiwi was posted on exchange with 230 Squadron and in return, 'Flying Officer Tigger' was posted to 3 Squadron. With promises to return for the next Helimeet in two years' time, the Kiwi crew packed Iroquois '01 into the back of a 40 Squadron RNZAF C-130 Hercules – an operation which drew quite a crowd when performed during the public open day – and began the long trip home.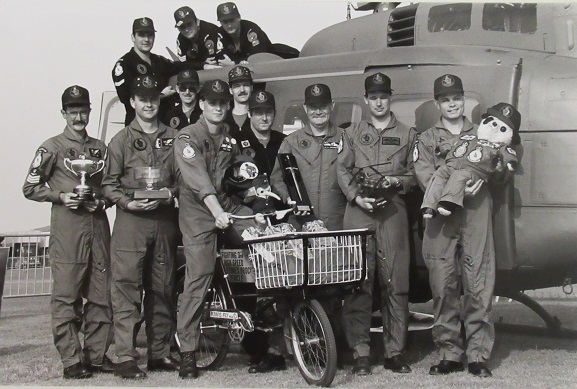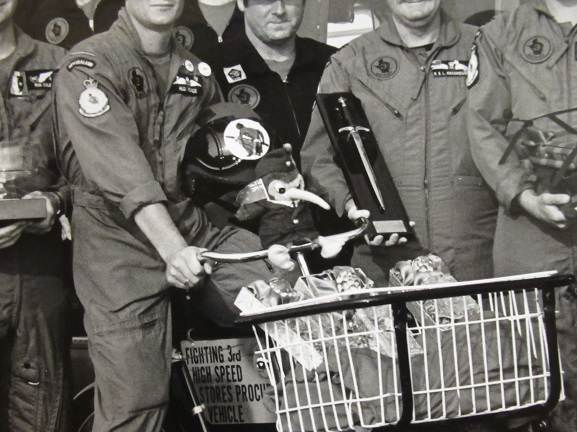 During Crazy Kiwi's time with 230 Squadron he was deployed to the Persian Gulf as part of Operation Granby, the British contribution to the Gulf War, and to Northern Ireland. He received the Gulf Medal with clasp and the General Service medal for his time in each theatre respectively. Somewhere along the way Crazy Kiwi was taken out of his Field Service cap and Service Dress jacket and slipped into the RAF uniform he now wears. Along with the change in clothes came a demotion in rank. Departing New Zealand as a Squadron Leader, he returned with Flying Officer rank on his shoulders! His counterpart Tigger spent his time with 3 Squadron deployed to Australia, Western Samoa, Vanuatu and Antarctica.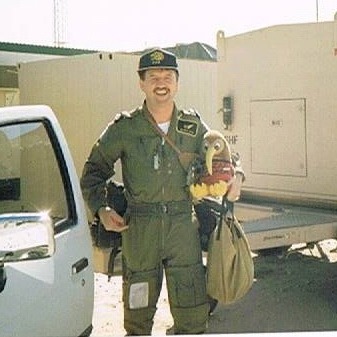 Two years later at Helimeet 92, 3 Squadron once more acquitted themselves with distinction, again winning 5 trophies, including the third consecutive win of the 'Spirit of the Meet' trophy. This trophy is awarded to the team that displays not only the highest standards of professionalism, but also has a good time doing it. While New Zealand may be a small country, with a small Air Force, efforts like this show that the RNZAF is more than capable of standing up with the big players.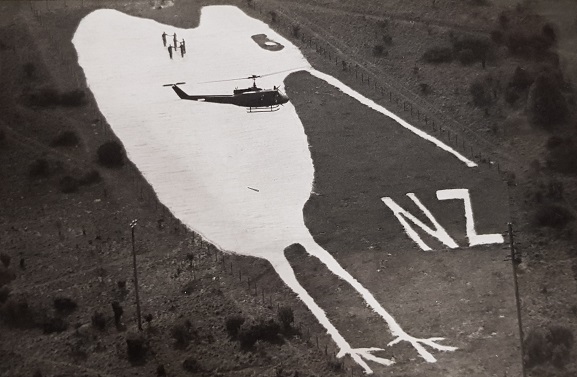 True to their word, 230 Squadron returned Crazy Kiwi, wearing his new uniform, to 3 Squadron who also returned Tigger after his Pacific adventures. Eventually, the little kiwi found his way to our collection, where he is now preserved for posterity, and we're looking forward to having him out on display at some point.
Sometimes fabulous stories like these can get lost, if they are not recorded. Thankfully, we have a dedicated following on social media who are always willing to share their knowledge with us. We would like to thank everyone who contributed to our appeal for help – you can all rest assured that Crazy Kiwi is now residing comfortably in his own little box, his story recorded for future generations.
Do you have any more stories or photos of crazy kiwi?
If you remember Crazy Kiwi and can add to his story, particularly with images, we'd love to hear from you! Please contact our team at: research@airforcemuseum.co.nz