While cataloguing a recently acquired collection, I noticed that it contained a small New Testament intended for use by the pilot whose collection I was working on. As we approach Christmas, one of the most important Christian holy festivals, it struck me that we must have other bibles and religious texts in the collection. I started to investigate to see if they might have individual links or stories to tell, above and beyond their intended purpose of confirming religious faith in an individual and society in general at times of great uncertainty.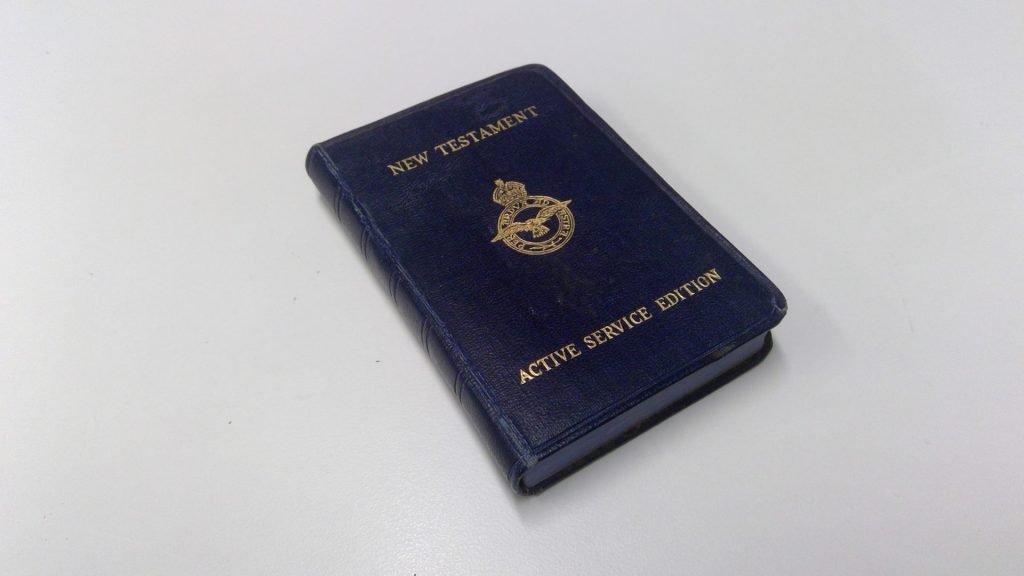 I will confess that I am not religious in my own beliefs. However, I recognise the historical importance of religion to the armed forces of all creeds tending to the faith, self-discipline, morality, wellbeing and conviction of service people. The existence of chaplains, padres, rabbis and imams to oversee this observance remains an important story of faith with the military even today. By extension, the texts of this religious observance have meaning, informing us of the form religion took and of other activities, such as church services, parades, funerals and marriages that took place during the owner's service.
Bibles for the Forces
The New Testament (Active Service Edition) which set me thinking about these religious texts as artefacts was published by the Naval and Military Bible Society in Britain in 1939. This organisation still exists today to supply Christian literature to service personnel, and was one of a number fulfilling this function in the past century and a half.
The New Testaments were intended to be used by service people who already had a faith, as well as potentially encouraging those who hadn't a faith to adopt one, similar to the bibles still deposited in hotel room drawers for the use of travellers.
The one pictured above belonged to Sergeant Kenneth Johnson. We don't know if he took comfort in reading it, but he at least inscribed his name in it, unlike many others, suggesting it was of value to him personally.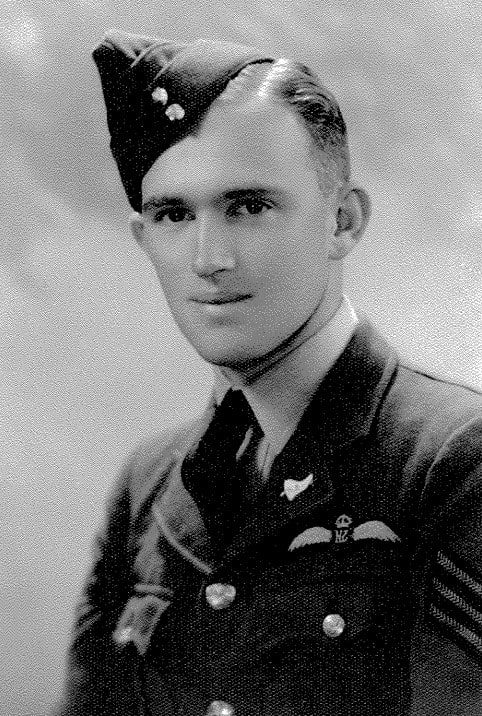 Kenneth Johnson joined the RNZAF in 1941 and trained as a pilot, eventually joining No. 44 Squadron, RAF Bomber Command in November 1942. Like so many other young men flying bombers over Europe, his service was short. On 30 March 1943, his Lancaster aircraft was shot down over Berlin and he was killed.
It is likely the New Testament was among the effects returned to his family in Timaru, a small comfort and reminder of his sacrifice, eventually coming to the Museum to be preserved as part of his story.
Keeping the faith in wartime
Most of the religious items in our archives relate to the Anglican church (also known as the 'Church of England'), but not all. And not all originated in Britain or New Zealand. In the collection of Flying Officer John Bew is a small Roman Catholic prayer and devotional book entitled 'My Military Missal'. It was produced by Confraternity of the Precious Blood in New York and was edited by the Reverend Joseph F. Stedman. It is stamped inside as belonging to Father C.C. Riedel of the US Naval Reserve. How Bew acquired it is unclear.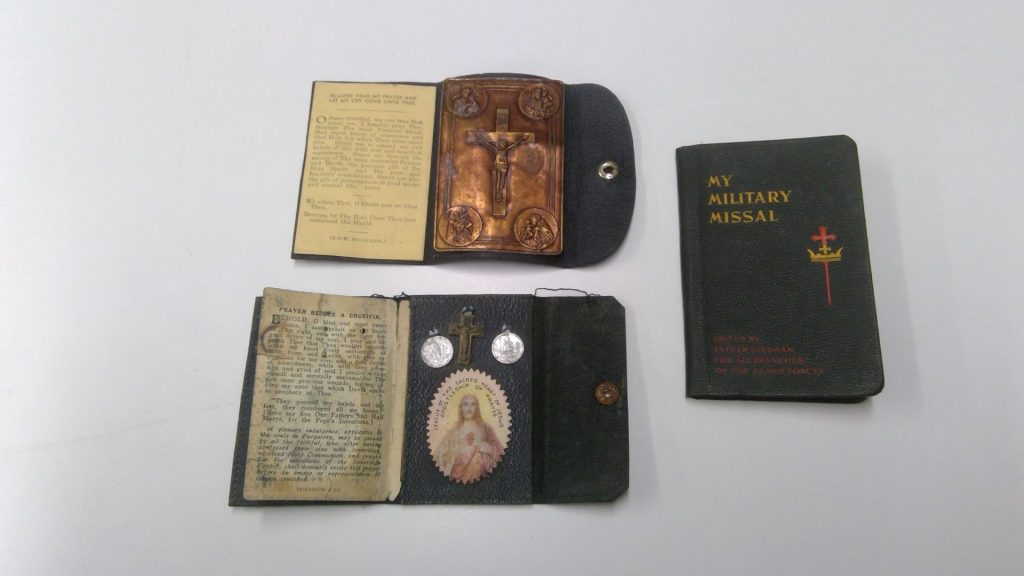 As further evidence of Flying Officer Bew's personal faith, the collection also has two small wallet style objects which contain prayers and Catholic devotional objects such as images of Christ, crucifixes, and coins.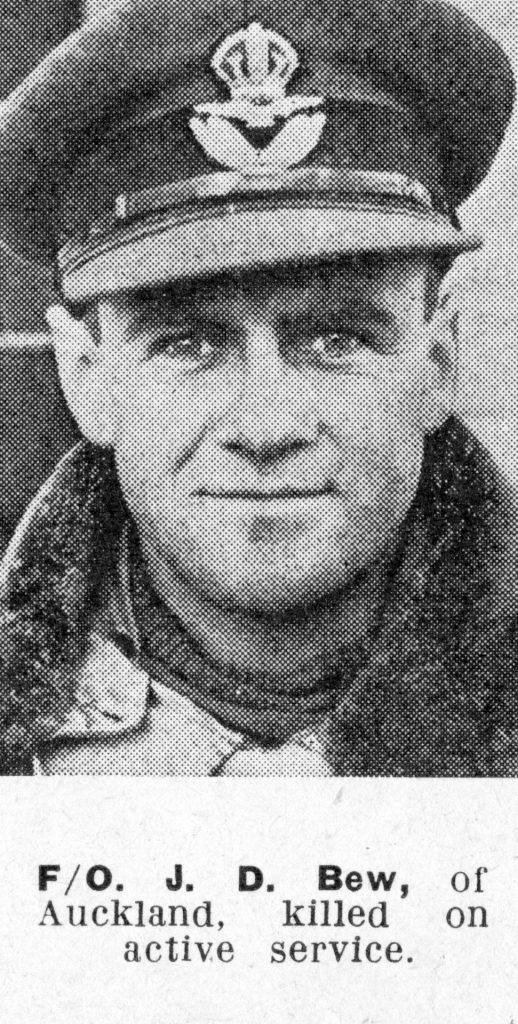 John Bew attended Sacred Heart College in Auckland and joined the RNZAF in 1940. He arrived in the Pacific to fly Kittyhawk fighters with No. 18 Squadron in September 1943. Just a few weeks later, on 21 November 1943, he took off on a patrol from Bougainville but failed to reach full power and crashed into a swamp, bursting into flames.
It appears likely that the prayerbook was acquired from an American source during this short period of active service in the Pacific and returned to his parents in Auckland on his death.
A wartime wedding
Another small religious book held in the archive tells a poignant story far beyond its mere existence. Flying Officer Douglas Farr joined the RNZAF in 1940 and served in Europe as ground crew with No. 489 (NZ) Squadron RAF during its early operations. He later served as an armaments officer before returning to New Zealand in December 1943.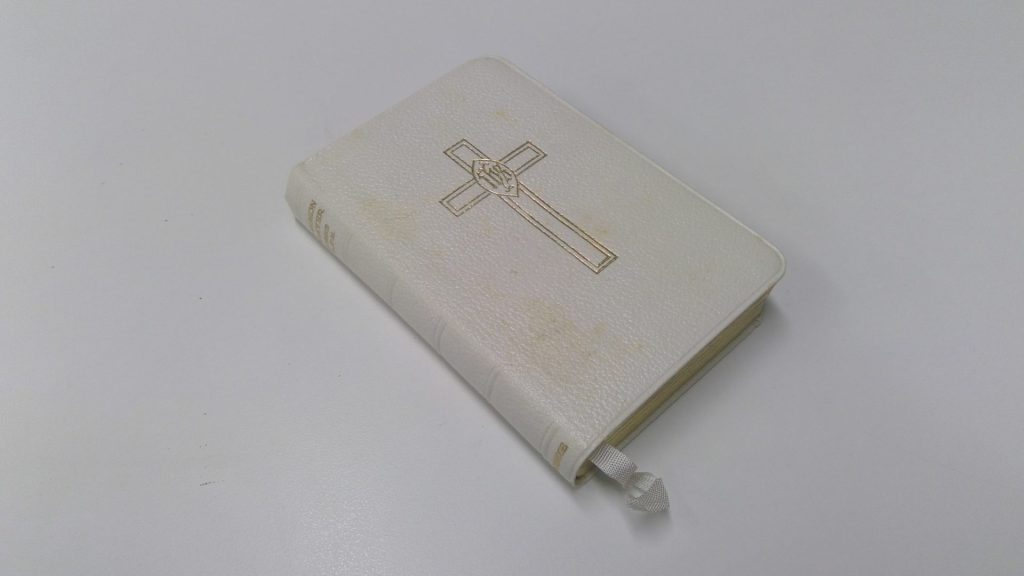 He married Margaret Dunning, a Canadian from Ontario living in New Zealand, on 26 May 1944 in Wellington. They had clearly been friendly for some time, as in a letter to his brother Norman in November 1941 from England, he wrote: "…don't forget my Margaret, Norm because I won't be home for a long time…". The Anglican Book of Common Prayer which was used at their wedding survives and is part of his small archive.
The prayer book is, appropriately for a wedding, white in colour. Inside are inscribed the names of Douglas and Margaret and the date of their wedding day. The white ribbon bookmark is also appropriately still marking the section for the solemnisation of matrimony.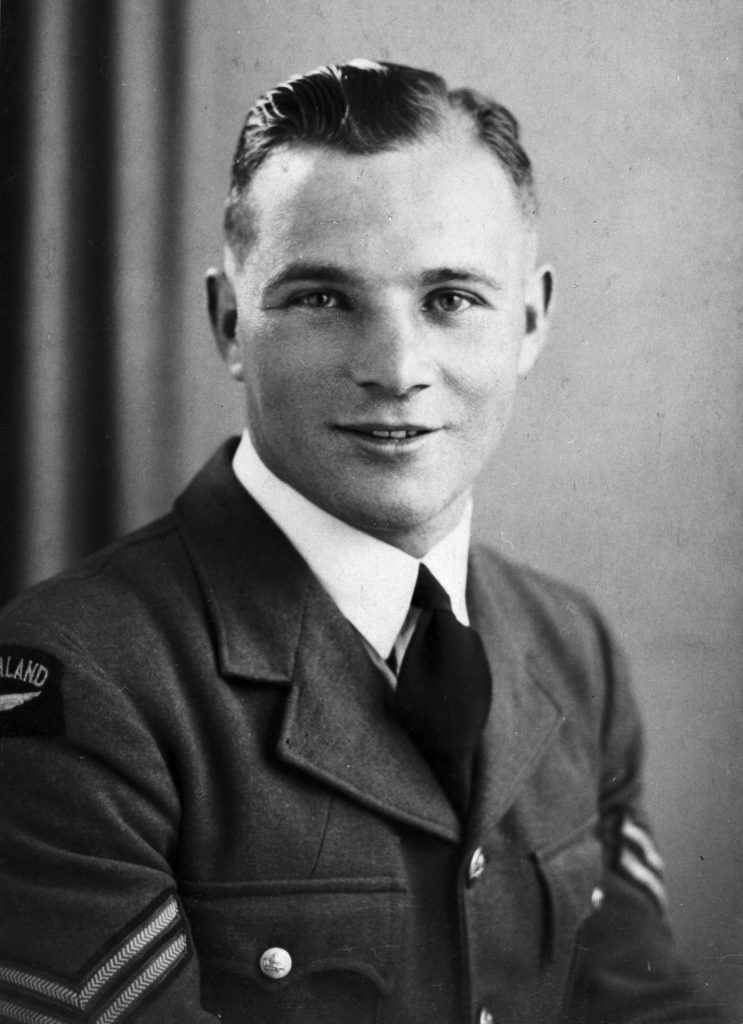 The Farr's story, however, did not have a happy ending. Douglas's pessimistic thoughts on the length of overseas service came tragically true. Later, in August 1944, Douglas embarked for the Pacific theatre of operations with the RNZAF's No. 3 Servicing Unit. He served through to the end of the war and in September 1945 was due to go home to Margaret. On 24 September 1945, Douglas Dakota NZ3526 took off from the New Hebrides with four crew and sixteen passengers, including Douglas, bound for Whenuapai. They never arrived. The tragedy was the largest loss of life by the RNZAF in a single day. Margaret returned to her native Canada where she died in 2008, having never remarried, leaving behind in New Zealand this small relic of her wartime romance and marriage. Douglas was posthumously awarded a Mention in Despatches in 1946, "in recognition of gallant services rendered during the war".
Our oldest bible
Interestingly, the oldest religious text we hold belonged to Sir Henry Wigram. Wigram founded the Canterbury (NZ) Aviation Company during the First World War and it is largely due to his efforts and generosity that the Air Force was established in its early form in 1923.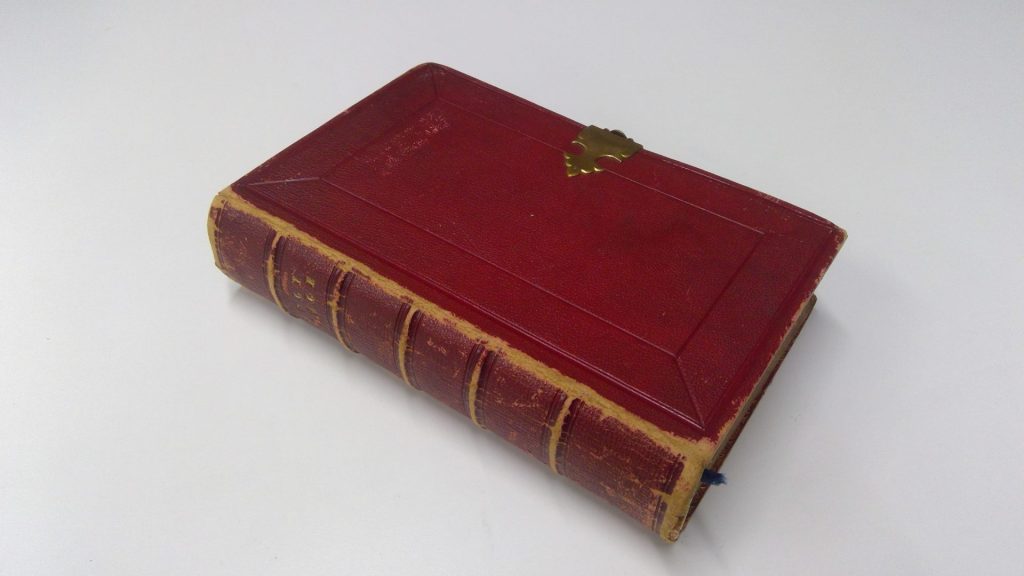 The bible was published in 1863 and is inscribed to a young 6-year-old Wigram by his aunts in Scotland. Wigram brought it to New Zealand as an heirloom when he emigrated in 1883.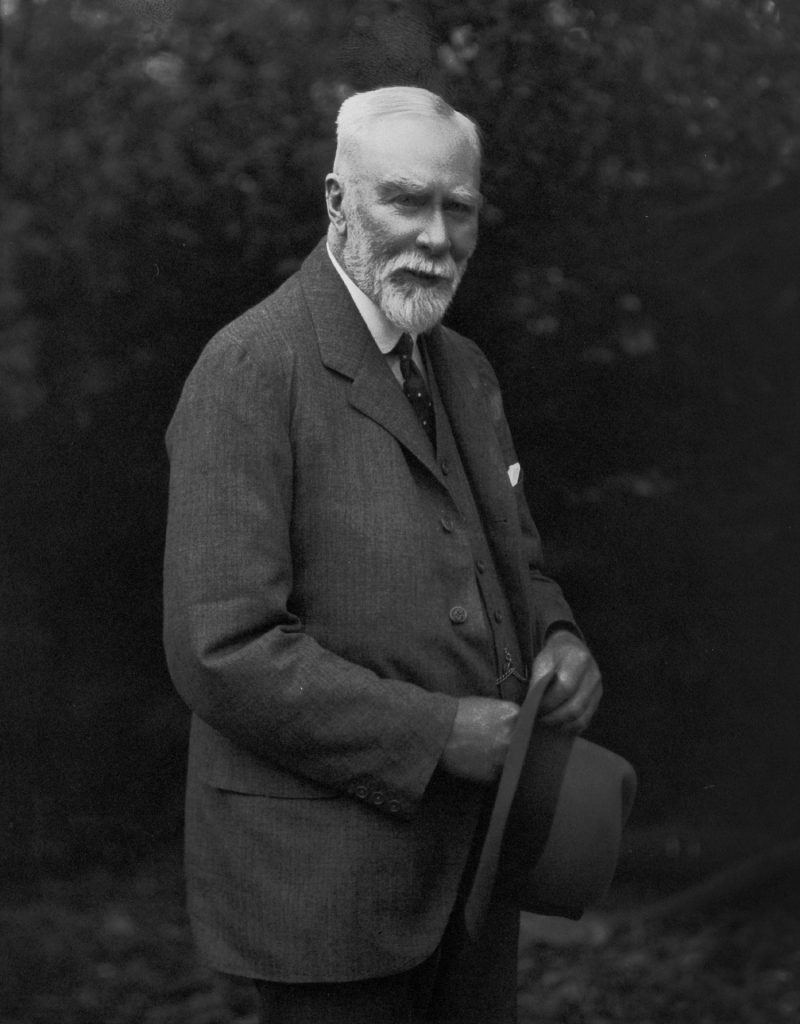 This bible is likely to be the oldest artefact in our library and archive, and probably the entire Museum collection. While it has no military connection, it is a reminder of the great legacy Wigram has for the history of military aviation in New Zealand, as well as being a printed object of some aesthetic beauty and craftsmanship of its time.
Last thoughts
The Museum has many bibles and other religions texts in our collection, so this is just a small taste of what we hold. Some have stories to share like the examples above, of deeply personal faith or love, tragedy and sacrifice. Others keep their owner's personal hopes and fears as secrets, lost to time. In some cases, they have probably survived because their owners died on active service, making them a preserved reminder for families, as in the three cases above. Regardless, they represent the importance of religion and personal faith to many of those who served before and continue to serve in armed forces around the world.