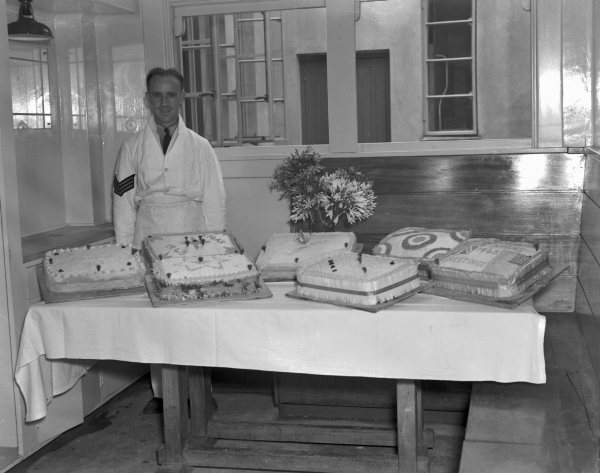 Why have one Christmas cake when you can have seven? If these cakes – on display in No. 1 Mess, RNZAF Station Whenuapai – are anything to go by, Christmas of 1943 was going to be a bountiful occasion, not to mention a well-decorated one.
Purists would argue that it's a bit late to be making a Christmas cake now, but these recipes from our archives could help you get the jump on next year. They both come from a notebook of handwritten recipes that was given "To Cynthia , with very best wishes for her future happiness, from The Equipment Section, Wigram, 1942". The second recipe appears to be one that had been broadcast on radio station 3ZB. The first recipe may not quite make seven cakes but is definitely intended for a crowd.
Notes: One pound (1 lb) equates to approximately 450 grams. A gill is ¼ pint or 150mL. No oven settings are given, but most dark fruit cakes bake at around 140-150 degrees Celsius in a conventional oven and around 20degrees cooler in a fan-assisted oven where you can't turn off the fan. For the second recipe, that would likely mean beginning at around 180-190 degrees and then turning the oven temperature down, but bear in mind we haven't tested this! Cakes are baked when a skewer inserted in the middle comes out clean.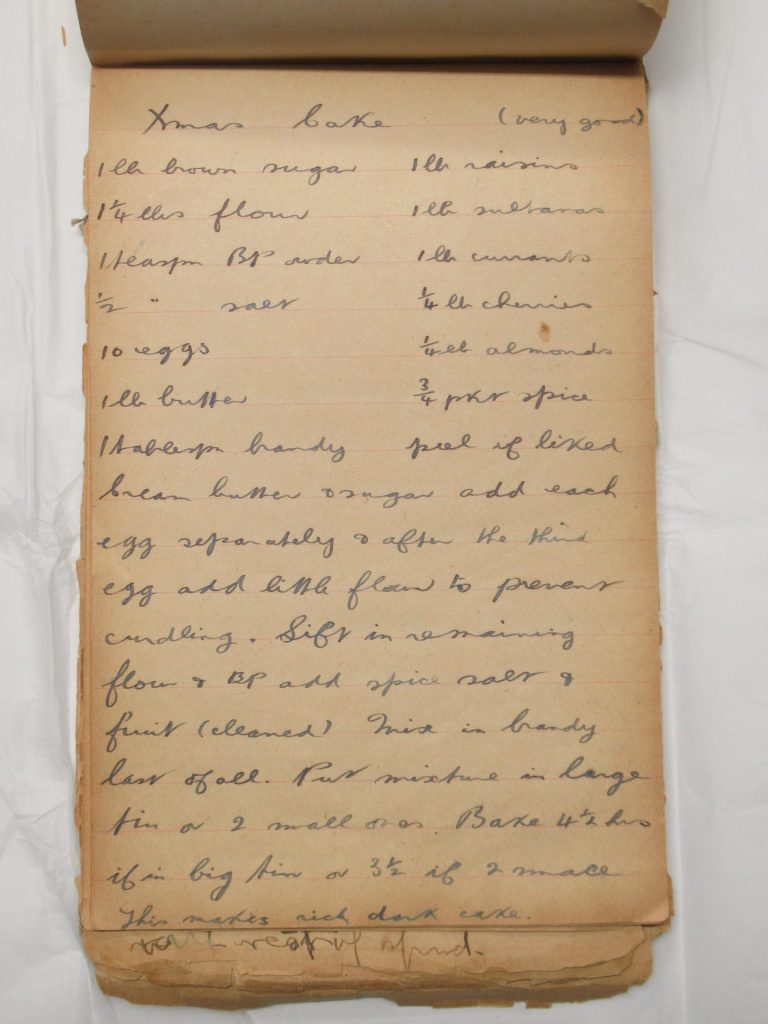 Xmas Cake ("Very Good")
1 lb brown sugar
1 ¼ lb flour
1 tsp baking powder
½ tsp salt
10 eggs
1 lb butter
1 Tbsp brandy
1 lb raisings
1 lb currants
¼ lb cherries
¼ lb almonds
¾ packet spice
Peel if liked
Cream butter and sugar and add eggs separately. After third egg add a little flour to prevent curdling. Sift in remaining flour and baking powder, add spice, salt and fruit (cleaned). Mix in brandy last of all. Put mixture in large tin or 2 small ones. Bake 4½ hours if in big tin or 3 ½ if 2 made. This makes a rich dark cake.
3ZB Xmas Cake
½ lb currants
½ lb sultanas
½ lb flour
½ lb raisins
½ lb sugar
½ lb butter
¼ lb candied peel (or marmalade)
2 oz ground almonds or any nuts
1 dozen prunes
¼ t baking soda
1 t grated nutmeg
4 eggs
½ gill brandy or wine
Stew prunes long enough to remove stones and drain well. Sift flour with nutmeg and soda then prepare fruit. Cream butter and sugar, add eggs, then flour and fruit. Lastly add brandy and mix well. Put half of mixture in a prepared tin, spread prunes on half of mixture and sprinkle with nuts and one tablespoon of icing sugar, then cover with remainder of mixture. Have oven fairly hot at first, then steady. Bake for 2 ½ hours.